Days After Trump's Big Speech, His Approval Rating Takes A Sharp Turn
The American people just spoke loud and clear. Even Donald could not have predicted it.
The nation cannot stop talking about Trump's State of the Union speech.
After being delayed for a week, it brought in some of the highest ratings in years, becoming one of the most watched TV appearances ever.
Trump talked a lot about unity and America's success. He had the whole room chanting "USA!" as Buzz Aldrin stood, and they broke out in "Happy Birthday" to a Holocaust survivor.
But Donald did not shy away from hammering the Democrats on border security, socialism, and other major issues, providing a stark contrast for America's future.
The mainstream media was furious over it, slamming it as one of the worst ever as America looked on.
But just days after the speech, Trump's approval ratings have taken a big swing. His State of the Union clearly had a big impact.
From Rasmussen Reports:
Just as in 2018, President Trump's approval rating jumped dramatically after his State of the Union address Tuesday, rebounding to 50% approval in Rasmussen Reports' daily Presidential Tracking Poll after two full nights of post-address polling.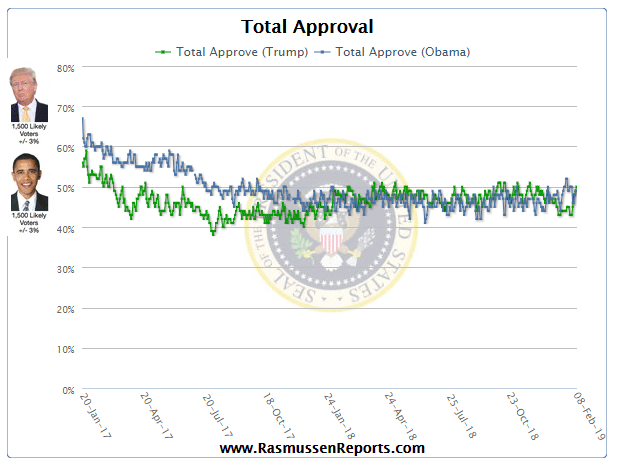 The latest figures include 38% who Strongly Approve of the job Trump is doing and 41% who Strongly Disapprove. This gives him a Presidential Approval Index rating of -3.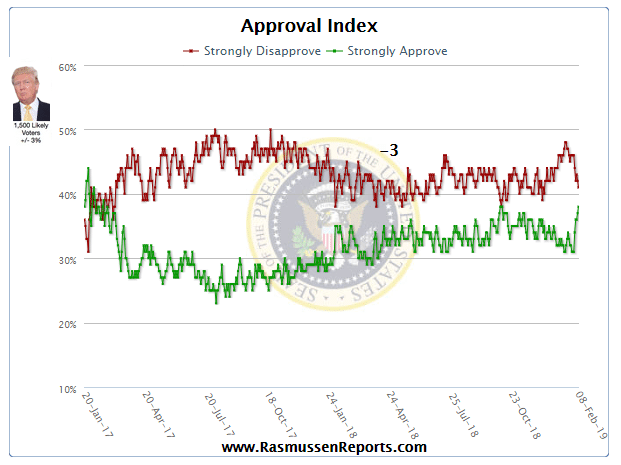 SHARE if you thought President Trump's speech was his best EVER!
Trump's numbers have taken the most dramatic turn of his presidency. In just a few days, he turned around his dropping numbers over the shutdown and reached a new high for the last year.
Even Democrats are softening on him – he really really knocked it out of the park and is winning them over.
And this is only a couple days into polling – there is a good chance this trend continues, and Trump could be flying high.
This all happens at the same time Virginia Democrats are embroiled in terrible controversies, new Democrat candidates are tripping over each other every day, and AOC releases her 'Green New Deal' with a socialist wish list and could have been written by a 5th grader.
Not to mention how badly the Democrats embarrassed themselves during the State of the Union, staying silent for all the good things happening in America while cheering in white coats for themselves.
Trump is showing how he really is a master showman, and he is only improving as President with every day he is in office. He is playing the media and cutting straight through to the American people.
SHARE if you thought President Trump's speech was his best EVER!
Source: Rasmussen Reports/ 2