Trump Nails Migrants With Massive BOMBSHELL – Liberals Instantly Go Silent
Democrats and liberals HATE it when President Donald Trump tells the truth.
The Left hates it even more when Trump asks questions they can't answer.
For instance, Trump recently had a few burning questions for the Central American migrants, the ones looking to illegally invade the U.S.
Many are going to try claiming asylum, despite the fact that most don't qualify.
And yet, here they come, waving the flags of El Salvador, Honduras, Guatemala, etc.
President Trump has a question for these supposedly fearful immigrants, though (via Breitbart):
"They're talking about all their great fear, all their problems with their country, but they're all waving their country's flag.

What is that all about?

If they have such fear, such problems, and they hate their country, why do we see all the flags being waved for Guatemala or Honduras or El Salvador?"
Exactly. You don't wave the flag of a country that has terrified you so much, you have to run away.
Trump then dropped the truth bombshell that the mainstream media continues to avoid:
"This has nothing to do with asylum; this has to do with getting into our country illegally."
That's it. That's the unvarnished truth.
This is not a migrant caravan; it's an invasion. They plan to force their way in, and then force hard-working Americans to care for them.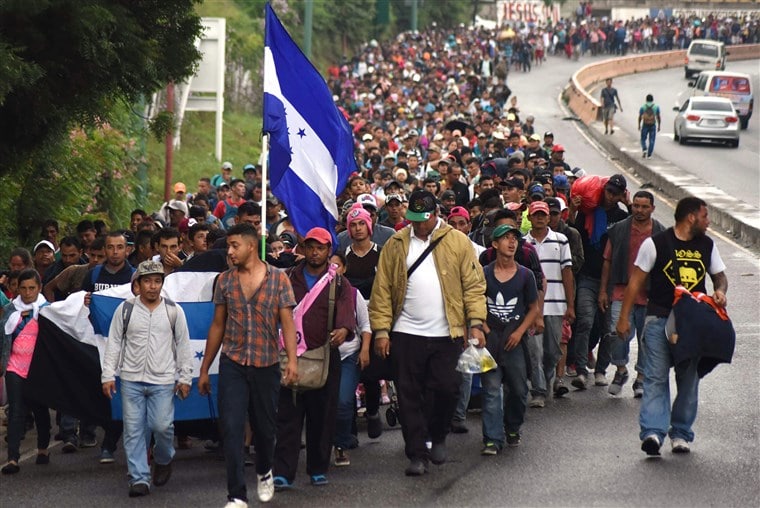 But at least this time, they won't be able to abuse one ridiculous loophole: catch-and-release.
As Trump says, all that's over:
"They think they're going to be released into our country like in the old days…

We're not releasing. They don't get released."
Furthermore, thousands of troops are amassed along our Southern border to protect the country.
If the migrants think all  they've got to contend with is some wimpy barbed wire, they've got a BIG surprise waiting for them…
But the truth about these migrants is out, and Trump knows it. And so do the American people, right?
Source: Breitbart