President Trump Signs The "Legion Act" – 6 Million Americans Are Going To Receive New Benefits
But the media is silent on Donald's major act for Americans!
Every day, Trump scores more and more wins for the American people—but the mainstream media refuses to cover most of them.
I guess they're busy propping up candidates like Joe Biden or Elizabeth Warren. I guess real news is too much for them these days.
President Trump has a special place in his heart for our troops. Especially our veterans, those men and women who risked it all to keep us free.
He's already scored major wins for veterans with landmark legislation. And now he just signed a bill that will help 6 million Americans in need.
From Twitter: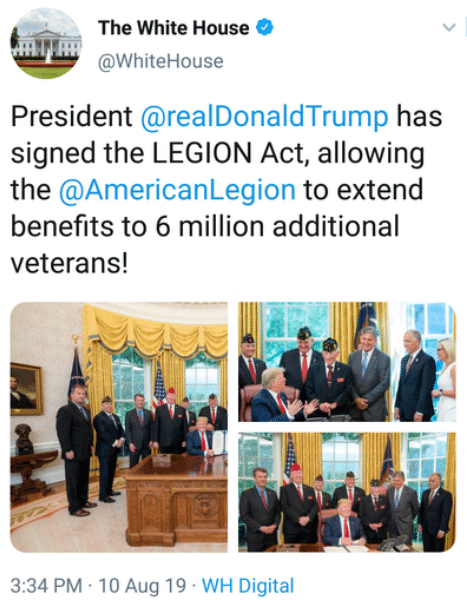 "President @realDonaldTrump has signed the LEGION Act, allowing the @AmericanLegion to extend benefits to 6 million additional veterans!"
Wow. According to the White House on Twitter, President Trump has just signed the LEGION Act which will extend the benefits of the American Legion to 6 million additional veterans.
Specifically, the bill will extend eligibility for The American Legion to more veterans.
This new law will extend eligibility to any honorably discharged veteran who has served between officially recognized times of war.
Before this, those who fought during conflicts not deemed "war" by Congress could not join the Legion. They faced the same kind of danger, risked their lives, suffered through much.
But were denied benefits and programs because of what was essentially a technicality.
Now, all veterans since WWII forward will be able to join. That means many more Americans can have access to care and support.
Many of them for the first time since they served.
This is yet another example of how President Trump is working to support our veterans.
Meanwhile, Democrats are arguing about how to take your tax dollars and give them to outsiders and border jumpers.
Democrats seem to be doing everything they can to help anyone—as long as they're not veterans or Americans.
Right now, countless veterans suffering from injuries, PTSD, and homeless. They struggle to find jobs, reunite with their families, and live successful lives.
Why shouldn't our government do what it can to help these men and women? Why does the left seem to care more about criminals and aliens—than heroes?
At least we have a president who is fighting right that wrong. And today, he just scored a huge win.
SHARE to thank President Trump for putting American veterans FIRST.
Source: Twitter