President Trump Hammers 'Overthrow' Leaders – Sets Fire To Deep-State Swamp
Democrats thought they could take down Donald – he's turning the tables on them!
It's taking time, but Donald Trump is rooting out the D.C. swamp. The swamp is pretty deep, but his influence is getting rid of the corrupt villains that have wrecked have in our country.
We all know the Deep State had a plan to get rid of Trump–if he had won. Hillary Clinton crafted a fake dossier in the hopes of framing him.
Trump axed the men willing to use it to take him down. Now he's telling the world.
From Fox News:
President Trump on Monday accused Deputy Attorney General Rod Rosenstein and former FBI Deputy Director Andrew McCabe of pursuing an "illegal and treasonous" plot against him, after McCabe detailed private DOJ discussions about secretly recording and potentially ousting the president…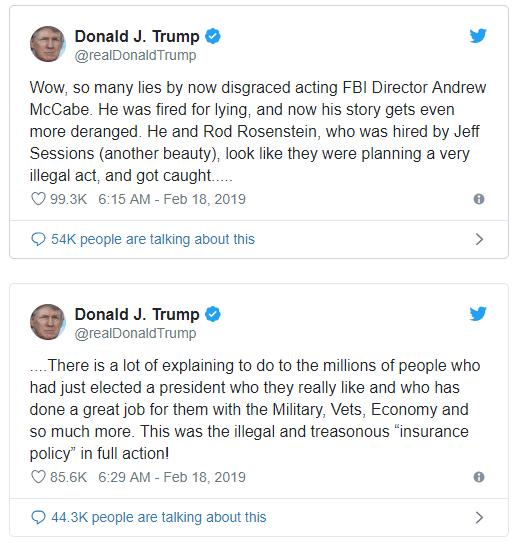 "He and Rod Rosenstein, who was hired by Jeff Sessions (another beauty), look like they were planning a very illegal act, and got caught … There is a lot of explaining to do to the millions of people who had just elected a president who they really like and who has done a great job for them with the Military, Vets, Economy and so much more. This was the illegal and treasonous 'insurance policy' in full action!" he tweeted.
SHARE if you want Trump to fire every last Washington traitor!
The men in the DOJ who tried to use the 25th Amendment to oust Trump might be the biggest traitors since Benedict Arnold.
These men wanted to use a fake dossier to remove the lawfully elected President of the United States.
Think about that. Trump had broken no laws. He did not do anything to suggest he was "unfit" to lead. Yet these DOJ officials wanted to frame him as a Russian operative, just to get back at him for beating Hillary.
If that's not treason, I don't know what is.
Now McCabe is admitting, partly, to what they had planned. Perhaps a real investigation should be underway, to find out just what these criminals were up to.
SHARE if you want Trump to fire every last Washington traitor!
Source: Fox News