Trump Dazes Democrats With New Evidence – He Beat Hillary By Far More Votes Than He Thought
Donald just found the report – and he's making sure it's not covered up!
Despite almost every poll saying Donald Trump had no chance of winning in 2016, he still won.
Not only did he win, but he also trounced his competitor, Democrat candidate Hillary Clinton.
Despite a lot of whining by Democrats, saying Hillary won the popular vote, the race that mattered in the electoral college wasn't even close.
And ever since, Trump has been saying he actually won by even more votes than was reported…
Well, he was right.
The President cited a new Judicial Watch report on Twitter: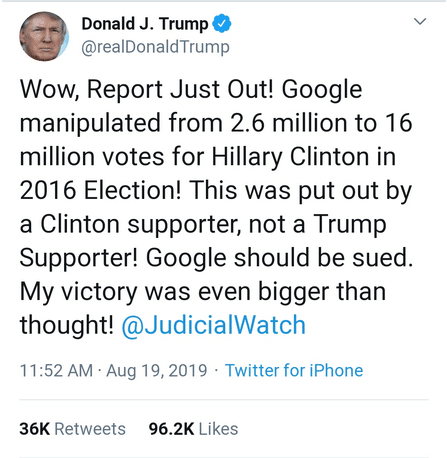 "Wow, Report Just Out! Google manipulated from 2.6 million to 16 million votes for Hillary Clinton in 2016 Election! This was put out by a Clinton supporter, not a Trump Supporter! Google should be sued. My victory was even bigger than thought."
Those numbers are just crazy!
Remember, Trump has had Google in his sights for some time. Maybe this is the news he needs to push forward with an official investigation.
Google and other tech giants like have immense control over the information we see and hear.
And it's pretty clear that they lean liberal—and their suppression of conservative news and views is well-documented.
Tom Fitton, head of Judicial Watch, also said there's plenty of evidence Hillary got votes from around 900,000 non-citizens.
That is a LOT of ill-gotten votes.
With those kinds of numbers, Trump very likely would have won the popular vote in 2016 as well as the electoral college.
We wouldn't have had the Democrats and media question his legitimacy for years.
And really, when you combine the Google influence with the non-citizen voting, Trump got a serious problem, one that Donald needs to address immediately.
This cannot happen again in 2020, and Trump has a chance to clean it up and keep Google from swaying another election.
Next year's Democrat candidate might have a better shot than Hillary (almost anyone would!), and that person should benefit from big tech bias!
Mr. Trump, now's the time to buckle down and put an end to this crisis! Our republic depends on it…
SHARE to tell Trump he needs to put an end to this problem now!
Source: Twitter