After Trump Ditches Congress – Donald Drops Direct Order On Mexico
Mexico has until next week to comply with Trump's demands – here comes Donald.
Border Patrol just sounded the alarm. The border chief just officially declared we have reached the "breaking point."
And President Trump is putting the blame squarely on not one, but two groups. And he's about to take massive action to fix it.
Direct from his Twitter account: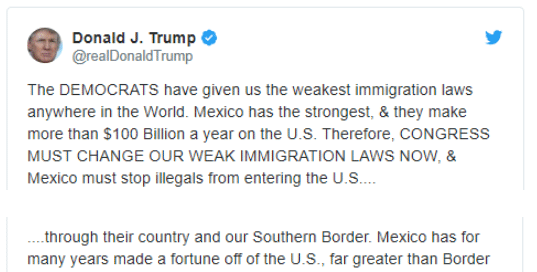 Here's Trump's full text: "The DEMOCRATS have given us the weakest immigration laws anywhere in the World. Mexico has the strongest, & they make more than $100 Billion a year on the U.S. Therefore, CONGRESS MUST CHANGE OUR WEAK IMMIGRATION LAWS NOW, & Mexico must stop illegals from entering the U.S. through their country and our Southern Border. Mexico has for many years made a fortune off of the U.S., far greater than Border Costs."
You're exactly right, Donald!
The laws Democrats (and some Republicans!) put in place are making it next to impossible to protect our country. And it doesn't help that our southern neighbor gets $100 BILLION a year, but they are making the problem worse, not better.
Donald needs to put a stop this NOW, don't you agree?
And he is. Trump is vowing extreme action to put an end to the border crisis unfolding before our eyes: he's giving Mexico a stiff ultimatum:
"If Mexico doesn't immediately stop ALL illegal immigration coming into the United States throug our Southern Border, I will be CLOSING the Border, or large sections of the Border, next week. This would be so easy for Mexico to do, but they just take our money and "talk." Besides, we lose so much money with them, especially when you add in drug trafficking etc.), that the Border closing would be a good thing!"
Yes, President Trump! Finally taking the action we've been waiting for!
He's sick and tired of Democrats and Mexico working against him, so what is he going to do about it? Shut it all down.
That will be quite painful for Mexican business, who rely on importing their goods here. Hopefully, Mexico gets its act together and closes down its side of the border before the situation escalates.
But the one thing they shouldn't do? Ignore Trump. Because Donald's not bluffing. He really will shut it all down.
He vowed to put America first—and he's going to do it.
SHARE to thank Trump for doing whatever it takes to secure the border!
Source: Fox News