Trump Hammers Top Democrat Swamp Slug – His Crooked Investigation Is Over
Donald just drained the Washington swamp and showed him the door.
After over two years and millions of dollars, Mueller's probe has delivered a great big goose egg.
Democrats have been begging him to convict Trump, give them anything to throw him out of office. But he's got nothing.
So, the Democrat-controlled House are launching their own taxpayer-funded investigations.
You know, instead of working to help the American people.
But it looks like Adam Schiff, the toe-headed buffoon leading these "investigations," just got outed by the man himself, and it means very bad news for the Democrats.
From Twitter: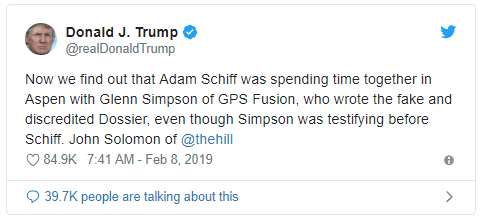 Now we find out that Adam Schiff was spending time together in Aspen with Glenn Simpson of GPS Fusion, who wrote the fake and discredited Dossier, even though Simpson was testifying before Schiff. John Solomon of @thehill
From The Hill:
They show Schiff meeting at the event with Fusion GPS Founder Glenn Simpson, one of the key and most controversial figures in the Russia collusion scandal. Both men insisted to me through spokesmen that they met only briefly last July…

Simpson ran the firm hired by Hillary Clinton's campaign and the Democratic Party to find dirt on Trump in Moscow. He employed retired British intelligence operative Christopher Steele, whose infamous and unverified dossier became the main evidence for the FBI's probe of the Trump campaign, particularly the surveillance warrant against Trump campaign adviser Carter Page.
SHARE to thank President Trump for rooting out Democrat corruption in the swamp!
Glenn Simpson is the corrupt loser who helped frame Trump with the fake dossier.
Now we know he's buddies with Schiff? Oh, no problem with that!
This is what we mean when we say D.C. is nothing but a toxic swamp full of dishonest crooks.
Schiff is a petty politician who wants to waste time and tax dollars just to undermine the president. And he's a hypocrite—years ago he had Nunes temporarily recused from a Trump investigation because of incidental connections. If he doesn't step down now, we know he's playing politics.
The president that has brought historic prosperity and success to the U.S. after only two years.
This little Democrat is abusing his power, just because he can. There has been zero evidence to suggest Trump or his allies did anything to hurt our democracy.
But time and again, we see Democrats colluding to prevent the American people from having their say.
If there's one thing we've learned over the last two years—from the shutdown to the disgrace that was Kavanaugh's hearings—is that Democrats hate democracy.
They'll do anything to undermine the man America elected to lead them.
But President Trump is a fighter, and he is refusing to let worms like Schiff get away with this.
SHARE to thank President Trump for rooting out Democrat corruption in the swamp!