Trump Gives Blue-Collar America Its Biggest Gift Yet – A $1.8 BILLION Explosion!
When Donald Trump ran for president, he promised to be the greatest jobs president ever.
Well, in the last two years, we've seen the U.S. economy rebound like never before.
It's almost hard to believe our country could recover so quickly, considering the terrible eight years we endured under Barry Obama.
But President Trump was good to his word:
He slashed regulation, lowered taxes, and proposed tariffs that protected American industries.
Every time he did something, experts claimed it was a mistake. But every time, he proved them wrong.
Now, he's celebrating another huge achievement that will prove to be a massive boost to our blue-collar workers.
From Breitbart:
"President Trump is celebrating plans for a new American steel mill that is set to create hundreds of high-paying U.S. jobs in the southwest.

On Wednesday, Trump praised Steel Dynamics, Inc. plans to invest between $1.7 to $1.8 billion into the construction of a new steel mill that will create about 600 American jobs in the southwest region of the U.S.

'Steel JOBS are coming back to America, just like I predicted,' Trump wrote online. 'Congratulations to Steel Dynamics!'"
Steel Dynamics announced that it will build a brand new 3 million ton steel mill in the Southwest that will create 600 good-paying U.S. JOBS. Steel JOBS are coming back to America, just like I predicted. Congratulations to Steel Dynamics!

— Donald J. Trump (@realDonaldTrump) November 28, 2018
Trump knows his steel.
As a businessman who developed major building projects across the world, he's seen the difference between great steel made in America, and the cheap garbage being spread by foreign industries.
Now, thanks to his tough-as-nails approach to trade, American steel is rebounding, and steel producers are confident that the future is bright.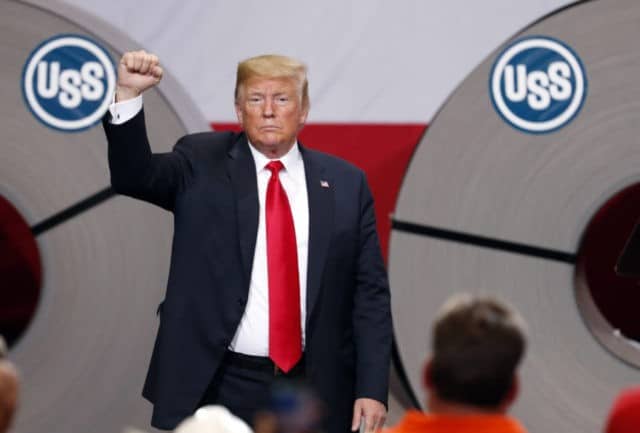 So, they are happy to invest in a brand-new, billion-dollar facility. This new Southwest factory will not only mean hundreds of great jobs but a new generation of quality steel for America.
This is more fantastic news, from a president who continues to deliver for the American people.
Don't be fooled though, the major news outlets won't report on this story. They don't want to admit Trump is successful.
But you know better now, don't you?
Source: Breitbart