Days After His Border Wall Visit, Trump's Approval Rating Takes A Hard Turn
The American people just spoke loud and clear – even 'The Donald' could not have seen it coming.
Trump has gotten even tougher on the border now that the crisis has reached its highest levels.
He took millions of dollars from caravan countries, and he promised to punish Mexico with tariffs and a closed border.
Mexico, big surprise, starting helping right away—preventing thousands from entering.
But how does the American people feel about Trump playing hardball? Looks like they're on his side. From Rasmussen: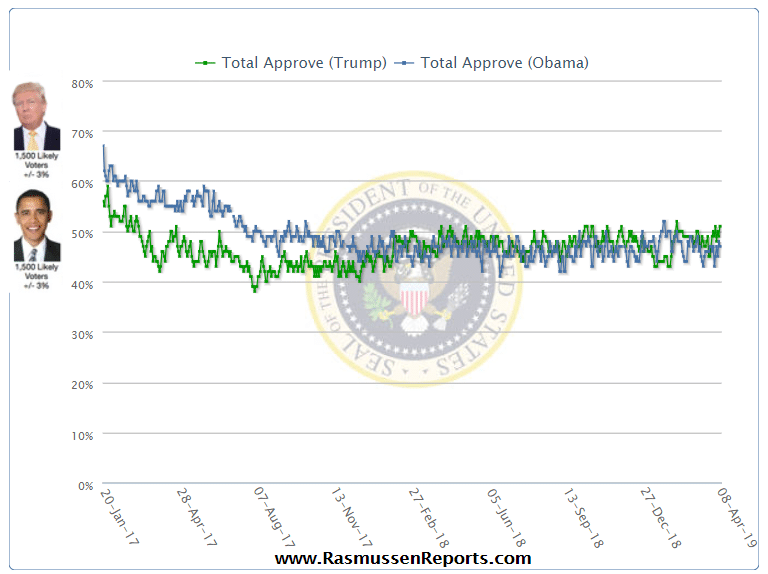 The Rasmussen Reports daily Presidential Tracking Poll for Monday shows that 51% of Likely U.S. Voters approve of President Trump's job performance. Forty-seven percent (47%) disapprove.
Ka-boom! Can you believe it?
After months of negative press, Trump is enjoying a 51% approval among Americans.
Trump's approval at this point in his administration is beating Obama's at the same time.
That's pretty significant. Remember, Obama was the media's golden boy. The left-wing news praised everything he did.
Meanwhile, media coverage of Trump is 92% negative. What a travesty.
Yet today, Trump is enjoying a higher approval rating than Obama. That's huge.
Trump enjoyed a boost after the Mueller report came out, clearing him of Russian collusion. But it dipped after the migrant crisis exploded.
But with Trump taking strong action, and even heading to the border, Americans are noticing.
And it's Americans like you who are making the difference.
Regular Americans, regardless of their party, don't want to see tens of thousands of strangers entering our country.
Unless you are a lemming Democrat, you probably approve of what Trump is doing to fix the problem.
His numbers are at an all-time high, right as the media is trying to discredit him in time for 2020.
Are you one of the majority of Americans that approve of the president?
SHARE if you approve of President Trump!
Source: Rasmussen