President NAILS Antifa Thugs – Puts The Fear of Trump In Them!
It's downright SCARY out there, thanks to domestic terrorists like Antifa.
Ironically, the group's name may stand for Anti-Fascist, but they only use fascist violence to get their way.
Their goal is to use violence to terrorize conservatives in any way possible. Most recently an Antifa mob gathered outside the home of Fox News host Tucker Carlson.
The crowd chanted, "Tucker Carlson, we will fight. We know where you sleep at night!" and "You are not safe."
They then kicked in his door, breaking it. His wife was home alone and had to lock herself in the pantry and call 911.
But the President has had it with this disgusting behavior, and he just sent these punks VERY powerful message.
From The Daily Caller:
"Trump was asked by The Daily Caller about the recent wave of political violence during his administration, beginning with violent Antifa riots on his inauguration day.
'These people, like the Antifa — they better hope that the opposition to Antifa decides not to mobilize.

Because if they do, they're much tougher. Much stronger. Potentially much more violent. And Antifa's going to be in big trouble.'"
The President is 100% right.
These alt-left gangsters (and that's exactly what they are) need to know who's boss. And it isn't them.
They're cowards, anyway.
After all, Antifa rarely attack conservatives head on; instead, they attack quickly with bike locks and pepper spray and then run away, hiding behind their masks.
There are countless videos and testimonies showing Antifa punks doing this, leaving conservatives stunned, bloodied and bruised.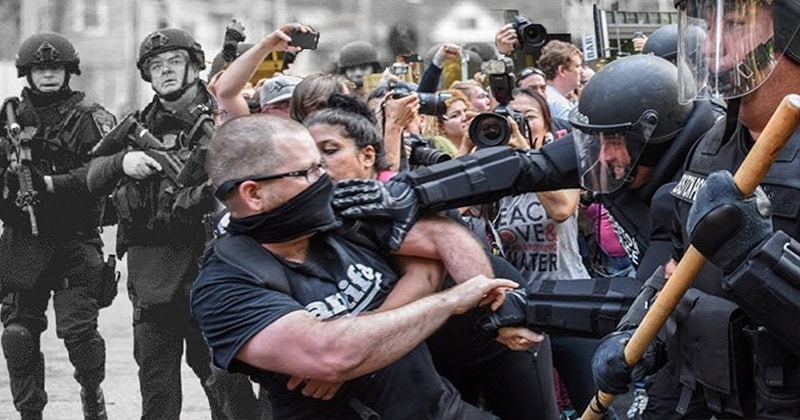 But conservatives have not yet mobilized in force against this group, preferring to let them destroy themselves.
Still, it's only a matter of time before Americans decide they've had enough and strike back…
Once that happens, there's no hope for Antifa, because as Trump said, conservatives are, "much tougher and much stronger."
And God help the Antifa punks if the military is ever mobilized against them!
Source: The Daily Caller