Trump Just Said, 'I Agree With Obama 100%' – Don't Be Shocked Because You Will Too!
There is no love lost between President Trump and his predecessor.
Even to this day, former President Obama continues to bash Donald Trump … despite the fact Trump continues to fix the messes Obama made!
On almost every issue, the men are opposed. Donald Trump won the White House, because of his firm promise to reverse some of Obama's worst policies.
However, the two seem to agree on one critical subject…
Trump surprisingly tweeted out his support for Barack Obama, concerning an old video clip that recently resurfaced.
Just take a look, and even you will agree with the former president!
From Western Journal:
"Unearthing a video from when Obama was still a U.S. senator from Illinois, Trump published it on his Twitter account Tuesday with a statement Americans aren't used to hearing from the 45th president.
And it's one Democrats heading into crucial midterm elections are probably not happy about.
In the video, Obama warned against the dangers of allowing 'unchecked, undocumented' immigrants to enter the United States at will."
I agree with President Obama 100%! pic.twitter.com/PI3aW1Zh5Q

— Donald J. Trump (@realDonaldTrump) October 23, 2018
"I agree with President Obama 100%!"
Once upon a time, Democrats were strongly opposed to illegal immigration. Why? Because it was the early 2000's and George Bush was president.
Democrats assumed Republicans supported illegal immigration. So, Democrats openly called for stricter border control and tighter immigration laws.
Today, Trump is against illegal immigration—so the Democrats oppose him! Talk about flip-flopping!
Since 2005, the Democrats concocted a new scheme to exploit illegal immigration.
Even though most Americans hate illegal immigration, the Democrats have used illegals to sway elections.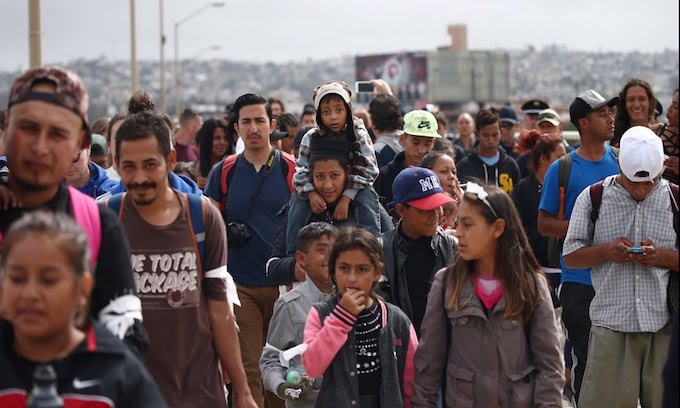 You don't have to care about what Americans think … no, not when you import your own voters!
The left would love for this video to be just forgotten. They don't like seeing their endless hypocrisy exposed.
But the fact remains that, a long time ago, Democrats told the truth; their leader told the truth, in fact.
Trump hasn't forgotten and neither should we!
Illegal immigration is ILLEGAL and unchecked undocumented citizens is a BIG problem.
Source: Western Journal