President Trump Goes On 24-Hour Blitz, Drops 2020 Victory Hammer On Media
Democrats and media missed it—Donald just laid down his real Trump card.
Donald Trump is known for his exploits on Twitter. But over the last 24 hours, he just set a new, eye-popping standard.
He has tweeted over 40 times. It is hard to keep up with all the amazing thoughts and developments from this powerhouse of a president.
Trump blindsided CNN and the New York Times over their unchecked corruption and dishonesty. And he revealed a major coverup:
And it's a game-changing hammer on Democrats that could clinch victory for the 2020 Election.
From Twitter: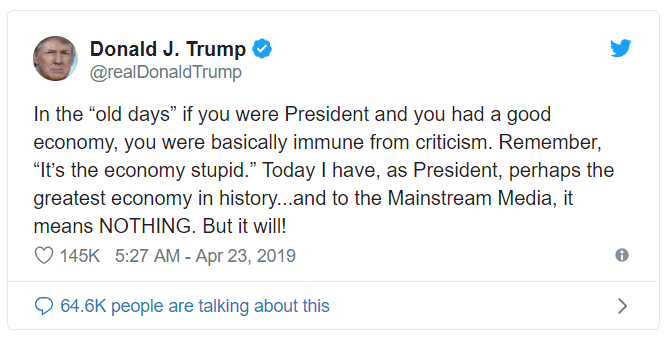 Here's the text in case you can't read the tweet: "In the "old days" if you were President and you had a good economy, you were basically immune from criticism. Remember, "It's the economy stupid." Today I have, as President, perhaps the greatest economy in history…and to the Mainstream Media, it means NOTHING. But it will!"
Pure. GENIUS.
Trump, in classic Trumpian fashion, blitzed the media for ignoring his historic wins for the economy.
He said that in the old days, a president that scored on the economy was immune from criticism. But they just keep hammering Trump.
Despite the amazing wins he's achieved for our economy, jobs, and the stock market, the media still seeks to destroy his administration.
To the mainstream media, Trump's incredible economy means nothing.
But he ends his tweet with this big promise: BUT IT WILL.
What does he mean?
Well, the media is not paying attention to Trump's economy, but the American people are.
Show of hands: how many readers have enjoyed higher pay or more opportunity since Trump entered office?
How many have seen their paychecks increase? How many Americans have been able to enjoy a vacation this or last summer… for the first time in years?
Yeah, many of us.
That's because of President Trump and we know it. And we will remember that when we go to the polls in 2020.
SHARE if you will send a message to the media by voting for Trump in 2020!
Source: Twitter