Top Dem Agrees With Trump On Wall – Democrat Opposition Falling Apart
Nancy thought she could out-deal 'The Donald' – but her party has had enough.
Democrats—being the children they are—refused to stand and clap during most of Trump's State of the Union, especially on border security.
(Except when they were applauding themselves, of course.)
But, as you might have guessed, President Trump had a big impact on this den of thieves.
The "resistance" seems to be wavering, and top Democrats are beginning to concede to Trump.
Speaker Pelosi is in big trouble.
From Twitter: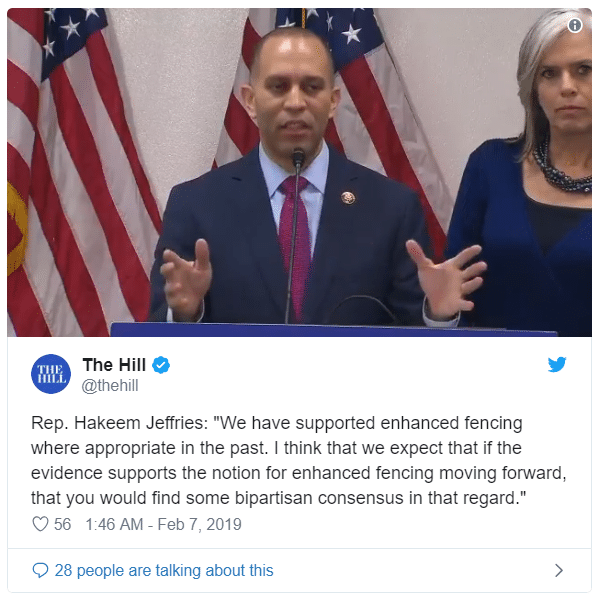 Rep. Hakeem Jeffries: "We have supported enhanced fencing where appropriate in the past. I think that we expect that if the evidence supports the notion for enhanced fencing moving forward, that you would find some bipartisan consensus in that regard."
SHARE if you're ready to see Democrats LOSE and Donald Trump WIN for America!
President Trump was very adamant about securing a bipartisan solution to funding the border wall.
But make no mistake, he'll get it done one way or another.
If Democrats are willing to come to the table, they'll score a big win for everyone.
Will they? The clock's ticking. They have less than a week to strike a deal before the government is shut down, once again.
If Pelosi continues to obstruct, her party might just go rogue and make a deal without her.
Looks like that's going to happen very soon.
SHARE if you support Trump building the wall, no matter how he gets it done!
Source: Twitter