Supreme Court Justice In Deep Trouble – Spotlight Reveals Media Cover Story
The media is hiding what's going on – but we'll know the truth by the time Trump starts his State of the Union.
The Democrats are panicking. President Donald Trump has already had the honor of appointing two conservative individuals to the Supreme Court.
He shattered the court's liberal majority, giving conservatives a victory that will last the next 30 years.
And the mainstream media has been terrified over another possible vacancy. They are alarmed over the extended absence of Ruth Bader Ginsburg, a sign that she might be very sick and unable to perform her duties.
But that's okay! Media outlets claimed Ginsburg appeared at an event this week! Phew!
There's just one problem—there's no proof she was even there.
From American Mirror:
Supreme Court Justice Ruth Bader Ginsburg attended a concert put on by her daughter-in-law at the National Museum of Women in the Arts on Monday, marking her first public appearance since cancer surgery in December…

In an era when every person is carrying a camera and isn't afraid to use it, there wasn't a single snap of the 85-year-old to be found. Every media story that covered her alleged appearance used file photos.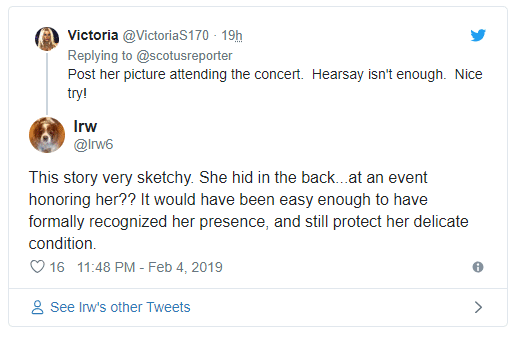 SHARE if you think the media is hiding something on Justice Ginsburg!
–> WATCH and discuss Trump's State of the Union HERE! <–
Why was CNN and all the others so adamant about Ginsberg being there—without even a single photo to prove it?
Most celebrities and public figures appear in countless photographs when they attend an event.
And keep in mind, this was a concert in the woman's honor. Why didn't she speak at the start of it? Or pose for a picture with her daughter-in-law, the person who organized the event?
Do you mean to tell me she couldn't stay for ONE picture? Or that nobody was able to sneak a stealthy pic with their iPhones?
And you expect us to believe she was really there, healthy and in good spirits?
Sounds like fake-news.
It's clear the Left is desperately trying to hide something. At the very least, RBG is too sick to do her job. It could be worse.
Either case, the White House must be notified so that a new justice is selected to replace her.
You can't hide this fact for the next two years, Democrats, hoping Trump will be removed.
This ain't Weekend at Bernie's! (If you don't get that reference, you're a Millennial).
But we'll find out just what's going on tonight, if we see Ginsburg attend the State of the Union. Can't hide the fact she's sick if she's not at the most important speech of the years.
UPDATE! Justice Ginsburg is absent from the State of the Union. Clearly she cannot hide what's going on.
SHARE if you're ready to see Trump replace Justice Ginsberg with a conservative woman!
Source: American Mirror