Hours Before His Speech, Trump Gives Military A Direct Wall Order
Pelosi and the Democrats never thought Donald would dare, right before his State of the Union.
Anticipation is growing for tonight's State of the Union address.
Supporters and critics are eager to hear what the president is going to say.
It's a safe bet that he'll focus much of his speech on our need for a border wall.
But even before the event, he's taking swift action against the tide of migrants trying to get in.
From Twitter: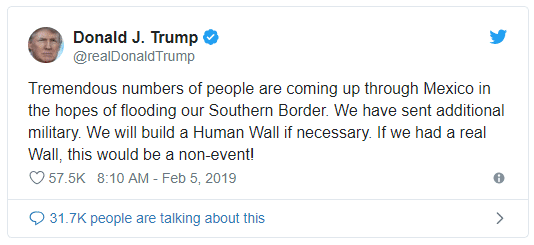 Tremendous numbers of people are coming up through Mexico in the hopes of flooding our Southern Border. We have sent additional military. We will build a Human Wall if necessary. If we had a real Wall, this would be a non-event!
SHARE if you support a human wall at the border, if that's what it takes to protect America!
–> WATCH and discuss Trump's State of the Union HERE! <–
We know Trump's not messing around when he says he wants a border wall.
Countless pundits and critics claimed it was all just talk. But even after meeting with incredible resistance from Congress and Democrats, Trump is not backing down.
He knows the future of our country depends on enforcing our immigration laws.
We will cease to be a country if we refuse to protect our borders.
The economy, national security, and our very lives are at stake.
Yet the Democrats don't care one bit about this crucial issue. They have fought tooth and nail, just to keep our Southern border weak and open.
What does that tell you about their goals? They want a United States that is weak, failing, and overrun with crime.
They don't care about you or your family. Democrats only care about using border jumpers to win elections.
It's disgusting.
President Trump is the only man working to end this tidal wave of crime. Even if he has to build a wall of humans to end this crisis, he will.
SHARE to thank President Trump and the military for doing whatever it takes to keep us safe!
Source: Twitter