Socialist Darling Betrayed—Her Own Family Unlocks Her Closet Of Dirty Lies
Her own family just turned on her.
If you want to make it big as a Democrat, the key is to turn yourself into a victim.
Self-described Democrat socialist Julia Salazar, a candidate for the New York state Senate, is attempting to launch her political ambitions on a minority platform.
In her case she's a double minority.
Or so she says.
Salazar claims to be both Latina and Jewish, depicting herself as a girl who immigrated from Columbia as a baby and whose Jewish Latino father was, "descended from the community expelled from medieval Spain."
What a compelling tale. Unfortunately, her past is being highly disputed by her own family, and Salazar is now being exposed for the lying fraud that she is.
From Western Journal:
"Social media postings, various articles, and the recollections of people who knew her at Columbia University show that in her early 20s Salazar was a right-wing pro-Israel Christian.
In 2012 and into 2013, she was the president of Columbia Right to Life, the campus's leading anti-abortion group.
She also appeared on Glenn Beck's show to denounce some Columbia professors as anti-Israel."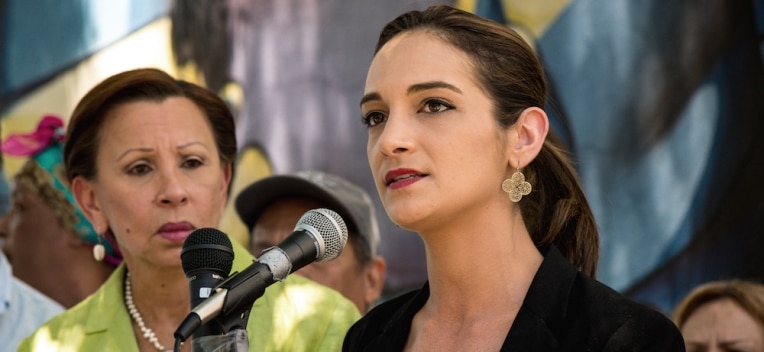 When Salazar's elder brother was contacted about his sister's claims, he was shocked. He didn't even know she was running for election, let alone that she was claiming to be Jewish.
"There was nobody in our immediate family who was Jewish … my father was not Jewish, we were not raised Jewish," Alex Salazar said.
Salazar also said her family was so poor that she had to work at a grocery store when she was 14 to keep her family afloat.
But her brother also disputes this as well.
"We were very much middle class. We had a house in Jupiter (in Florida) along the river, it was in a beautiful neighborhood," he said.
So, not only did she completely flip her position – from being a right-wing Christian to a left-wing Socialist – but she also lied about her faith and her upbringing.
Oh, and to make her name sound more ethnic, she changed that, too:
She was born Julia Christine Salazar but she tells everyone her middle name is "Carmel," so there's an emphasis on the Latino side.
Well, of course. You can't win a Democrat post if you're white and Christian. And she knows it.
Salazar is living proof that it doesn't matter if you only registered to be a Democrat a year ago…
If you tell the right lies, you can rise to the top of the Democratic Party.
Source: Western Journal