AOC's 'Green New Deal' Funding Exposed – Secret Rich Partner REVEALED
Now it all makes sense…
Green is the new red according to the radical leftists who have infiltrated our government.
Case in point: the so-called Green New Deal.
Freshman Representative Alexandria Ocasio Cortez has made this 11-page Google document her manifesto for how to save the planet.
And it's filled with completely preposterous and unrealistic visions that do nothing but give the government more power.
The Deal would require a government overhaul of every building in America to make them more eco-friendly, and even contains measures that have nothing to do with the environment, like a federal jobs guarantee.
Other than the science-fiction aspects of "removing all greenhouse gasses from planet earth", this Deal is an attempt to institute full blown socialist tyranny.
So, it shouldn't be a shock to learn who's behind the big money pushing for AOC's highly questionable Deal.
From Breitbart:
"The Green New Deal blueprint introduced by Rep. Alexandria Ocasio-Cortez was crafted by three far-left organizations and is being pushed by a coalition of well-funded professional progressive groups and known leftist agitators.

Some of the organizations helping to promote the Green New Deal have ties to financing from billionaire George Soros…

…and trace their roots to such radical groups as Occupy Wall Street and Black Lives Matter.

The Green New Deal was crafted by Ocasio-Cortez along with three groups — the Sunrise Movement, Justice Democrats and a group calling itself New Consensus."
So Alexandria Ocasio-Cortez is essentially in league with George Soros? Oh, BIG surprise!
Soros' continued funding of socialist concepts and programs continues to create huge problems for our country.
Many of the groups now pushing for this Deal were nonexistent until two years ago, but they've been making huge waves since Trump took office.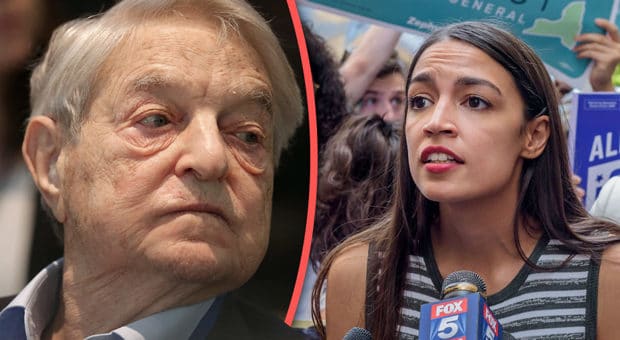 For example, the group Sunrise temporarily occupied Speaker Pelosi's office to demand action on climate change late last year, and AOC joined them.
Another group heavily funded by Soros and advocating for the Green New Deal is the Center for Popular Democracy, which is headed by activist Ana Maria Archila.
You may know Archila as one of the two women who harassed Arizona Republican Sen. Jeff Flake in an elevator during the Kavanaugh confirmation hearings.
Yes, it seems Soros is indirectly – or in some cases, directly – funding much of the unrest in D.C.
SHARE if you think guys like George Soros are a threat to the American way of life!
Source: Breitbart