Scandal Nails 2020 Democrat Hopeful – Her Staff Is FLEEING Due to 'Bursts Of Cruelty'
Her chances may have just gone down the drain…
Yet another clown has emerged from the DNC clown car.
And this means that we officially have a new contender for the Democrat nomination for President in 2020.
However, this candidate's campaign is already off to a rocky start … apparently because Democrats just can't avoid scandals.
Senator Amy Klobuchar of Minnesota is a vocal critic of the President, and a huge global warming alarmist.
This made her presidential announcement in the midst of a huge blizzard all the more hilarious, and something the President couldn't resist mocking her over.
Well, it happened again. Amy Klobuchar announced that she is running for President, talking proudly of fighting global warming while standing in a virtual blizzard of snow, ice and freezing temperatures. Bad timing. By the end of her speech she looked like a Snowman(woman)!

— Donald J. Trump (@realDonaldTrump) February 10, 2019
Check out a clip of the snow woman's speech below:
Minnesota Democratic Sen. Amy Klobuchar jumped into the crowded field of Democrats running for president in 2020, pledging to "lead from the heart" during a snowy announcement in Minneapolis. https://t.co/41G7WhwPDF pic.twitter.com/BzV7D3BQUM

— CNN (@CNN) February 10, 2019
But a blizzard may be the least of Klobuchar's worries now.
Apparently, someone over at the DNC isn't pleased that she's running for President and has leaked some damning information to the press.
Is her campaign over before it's even begun?
From The Daily Wire:
"'…at least three people have withdrawn from consideration to lead Sen. Amy Klobuchar's nascent 2020 presidential campaign' over Klobuchar's 'history of mistreating her staff.'

Several former staffers reportedly stated that Klobuchar is prone to 'bursts of cruelty' and to sending strings of abusive and belittling emails to staff in the middle of the night.

Others said that Klobuchar 'tasked them or their co-workers with performing personal errands…

such as making her personal appointments, washing dishes at her home or picking up her dry cleaning' — duties senate staff members are prohibited from doing."
Hearing that Klobuchar is losing staff over allegations of "cruelty" is hardly surprising when you consider the standards of the Democrat Party.
Remember, Hillary Clinton was notoriously abusive to her staff, especially to Secret Service agents.
She treated these men like hired help, and even told one to "go f*** yourself" when he told the former First Lady, "Good morning."
It appears Klobuchar is following in Clinton's footsteps, and her behavior has caused her to have one of the highest staff turnover rates in the Senate.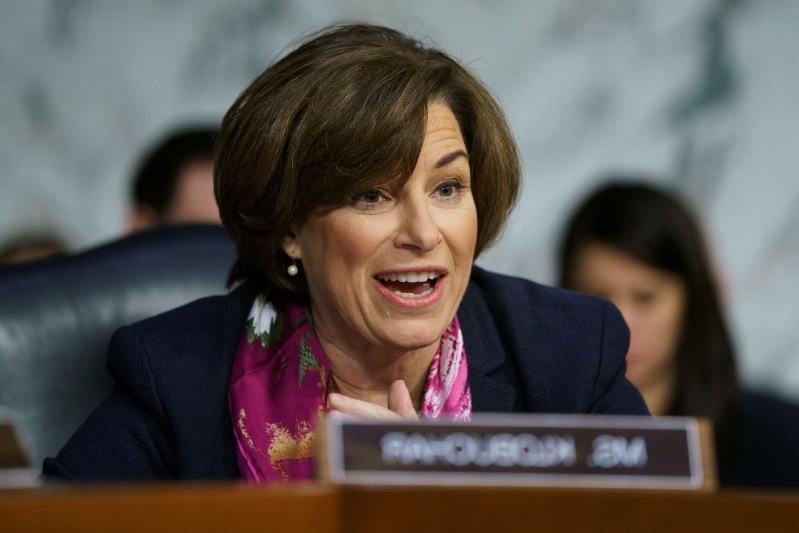 Klobuchar has denied all allegations, though, which follows the liberal playbook to a "T."
Leftists can't admit their own wrongdoing because in their minds, they never do anything wrong.
Remember when she attacked Kavanaugh during his hearing? I bet she doesn't feel she was wrong there, either.
But it seems someone in the media is working against Klobuchar, likely on behalf of another Democrat candidate such as Kamala Harris…
The knives are out at the DNC headquarters, and 2020 is shaping up to be a cutthroat ride amongst the crowded Democrat field.
Source: The Daily Wire