After Sarah Sanders Gets Booted By Un-American Restaurant, Irate Customers Deliver Swift Justice
Over the weekend, we were served yet another dose of liberal bigotry.
Here's the unvarnished truth: Liberals seem to think that because they hold to the "correct" kind of politics, they don't have to treat others with civility and respect.
If you hold to views they don't like, they'll treat you worse than a dog. That's just a fact.
And since Donald Trump became president, it has only gotten worse.
Liberals are experiencing a collective meltdown; they can't believe the man they hate so much is doing so well. And they are taking it out on anyone associated with the administration.
That's why a pathetic restaurant called the Red Hen in Lexington, VA kicked out Press Secretary Sarah Sanders. Those "tolerant" liberals couldn't even serve someone dinner!
Except now they are wishing they just shut up and took her order, because the internet backlash has been quick and brutal.
From IJR:
"White House press secretary Sarah Huckabee Sanders caused an uproar on social media after she claimed a restaurant in Virginia asked her to leave because she worked for President Donald Trump:
Last night I was told by the owner of Red Hen in Lexington, VA to leave because I work for @POTUS and I politely left. Her actions say far more about her than about me. I always do my best to treat people, including those I disagree with, respectfully and will continue to do so

— Sarah Sanders (@PressSec) June 23, 2018
While her comment got a lot of attention on Twitter, the restaurant saw a flurry of activity on its Yelp page.
Some made political comments, attacking the restaurant for its bias against the Trump administration…
In one review, someone named 'Shawn K.' called the restaurant 'hateful' and said it could learn from 'people like Sarah'
'Her actions in response to your action speaks volumes about how sad and pathetic you people are,' the commenter said…
The restaurant even appeared to lose its nearly five-star Yelp rating:
https://twitter.com/DavidBozell/status/1010580849132261376
Sanders' father, former Arkansas Gov. Mike Huckabee, slammed the restaurant and accused it of bigotry:
Bigotry. On the menu at Red Hen Restaurant in Lexington VA. Or you can ask for the "Hate Plate". And appetizers are "small plates for small minds" https://t.co/rHEVdcQwwh

— Gov. Mike Huckabee (@GovMikeHuckabee) June 23, 2018
Sanders wasn't making a scene. She wasn't disturbing other guests or creating problems for the restaurant; she was simply a paying customer.
And yet, thanks to the restaurant's un-American behavior, conservatives will now be taking their money elsewhere.
Do you find Patriot Journal articles helpful and valuable? Then comment with your thoughts below, and share this story with your friends and family!
It's really quite humorous to see how this all played out. Did the Red Hen really think they'd get away with being so petty?
Millions of Americans support the President and his team. That includes Sanders, who has the unenviable job of dealing with the fake news industrial complex on a daily basis.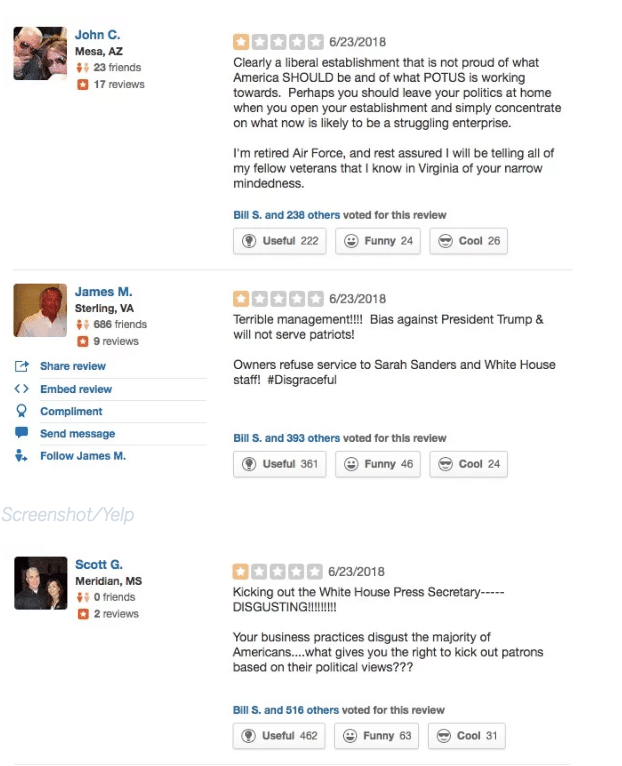 The owners of the Red Hen prove they are just as evil and corrupt as the con artists in the media; they are driven by hate and partisanism.
I mean, when you can't even serve dinner to a person because of their politics, you've really fallen low.
The avalanche of negative comments is only the beginning, as the Red Hen will certainly suffer as a result of this episode.
The best thing they can do right now? Swallow their pride, apologize, and let everyone know they welcome all customers.
But do you think they'll do this? I'm not holding my breath…
Source: IJR