Pence Lays Down The Law On Congress – Calls For Removal Of Top Democrat
VP Pence wants the Left's most controversial official gone.
Thank God for Mike Pence.
The Vice President, just like his boss, always says what needs to be said. He doesn't practice the Washington swamp doublespeak.
So when Democrats protected one of their own who crossed WAY over the line, Pence came down hard.
At the annual America Israel Public Affairs Committee (AIPAC), Pence zeroes in controversial Democrat Ilhan Omar, whose anti-Semitic remarks have been well-documented.
First, the Vice President reminded us that Omar said Israel "hypnotized the world" and accused Americans who support Israel of "being bought off by political contributions."
I can't believe she said this about Israel, can you? And even worse, she's on the Foreign Affairs Committee.
Pence was unhappy about this, so he had a powerful message for her and her Democrat colleagues:
"Anti-semitism has no place in the Congress of the United States of America!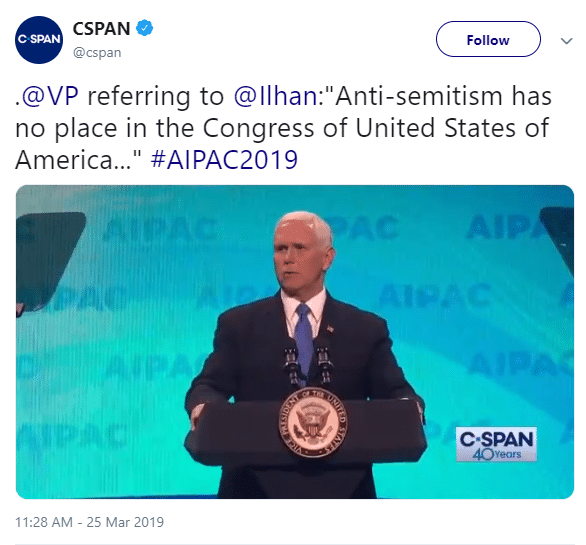 But that's not all—then Pence really dropped the hammer:
…anyone who slanders those who support this historic alliance between the United States and Israel should never have a seat on the Foreign Affairs Committee."
Wow!
Pence has no problem calling out corruption and he's right. There is absolutely no room for this kind of talk in Congress.
And now Pence is calling for Omar's removal from the committee because of her stance on Israel's alliance with America.
He's absolutely right.
Why does it appear as if more and more Democrat leaders are very much against Israel? And why should Omar get away with it?
Let's not forget—Omar has also participated in closed-door fundraisers tied to groups like Hamas.
This is just wrong.
It shouldn't be tolerated, nor allowed. Pence is right, and the American people need to stand in solidarity with him.
SHARE if you agree with our Vice President—Omar needs to GO!
Source: Western Journal