After Queen Pelosi Opposes Mexico Deal, Trump Lights Democrat Swamp Up With A Spotlight
Nancy picked the wrong fight – and Donald turned the Democrat playbook into dust.
President Trump defied skeptics by landing a historic deal with Mexico over the weekend.
Mexico will finally help end the ongoing problems at our border. They are stepping up in a big way.
Of course, Democrats aren't happy about it. Nancy Pelosi revealed her true colors with her latest statement about the deal.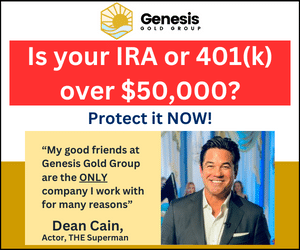 From Breitbart:
"We are deeply disappointed by the Administration's expansion of its failed Remain-in-Mexico policy, which violates the rights of asylum seekers under U.S. law and fails to address the root causes of Central American migration," said the statement from House Speaker Pelosi.
Really, Nancy? We keep people out until they're processed correctly, and you have a problem with that?
That's not violating their rights. That's following the rules. In fact, Mexico is even offering people job permits so they can earn a living while awaiting their case.
So Pelosi is obviously supporting bringing more people into America against the rules.
Trump wasn't about to let Pelosi get away with this, so he unloaded on Twitter to expose the Democrat gameplan and shine a spotlight on their swamp tactics: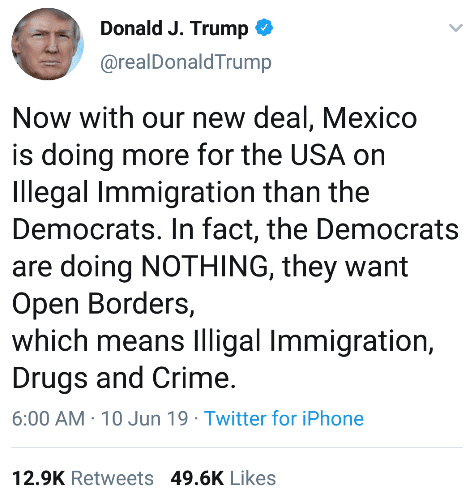 "Now with our new deal, Mexico is doing more for the USA on Illegal Immigration than the Democrats. In fact, the Democrats are doing NOTHING, they want Open Borders, which means Illigal Immigration, Drugs and Crime."
Boom! Trump dropped a burning hammer on Democrats, calling out the fact that Mexico is doing much more to help America than our own Democrat leaders.
Trump said Democrats are doing nothing to fix our problems. He accused them of wanting open borders, which leads to terrible things.
It's hard not to disagree. Since he became president, Trump has offered several solutions to fix our broken system.
He has even offered deals that any Democrat would like, including a pathway to citizenship for DACA recipients.
Every time, Democrats have rejected his offers. They have refused to make deals to protect our border and help Americans.
Why not? Did they think they could impeach Trump and not have to bother at all? That's a pipe dream, folks!
SHARE if you think Democrats are hurting America more than Mexico!

Source: Breitbart