After Pelosi Condemns Omar's Anti-Semitism, Nancy Pulls A 180 – SAD!
First she slammed Omar, but look what she's saying now.
Americans were stunned and outraged when newly-elected Rep. Ilhan Omar made anti-Semitic remarks.
In fact, the outrage was so strong, Democrats in the House planned to sign a resolution banning all such statements.
Even Speaker Nancy Pelosi came out condemning the remarks, which surprised many.
But after all, Democrats all defend each other, no matter how egregious the transgression, right?
Therefore, nobody should be surprised that Pelosi has apparently pulled a 180, and is now defending Omar.
From Breitbart:
"Speaker of the House Nancy Pelosi (D-CA) defended Rep. Ilhan Omar (D-MN) on Wednesday…

…telling reporters that while Omar had made anti-Jewish remarks in recent weeks, she had not been 'intentionally antisemitic.'"
This comes after House Democrats had an all-out brawl over the resolution to condemn anti-Semitism.
Why should there be controversy over a resolution condemning racism? And for that matter, how could anyone be "unintentionally antisemitic"?
How do you accidentally say something hateful towards an entire group of people?
Either Pelosi is trying to cover up Omar's statements, or she's suggesting that politicians don't know what they say when they say it.
Honestly, which is worse?
The fact remains, Ilhan Omar has a history of saying anti-Semitic remarks, specifically attacking the nation of Israel.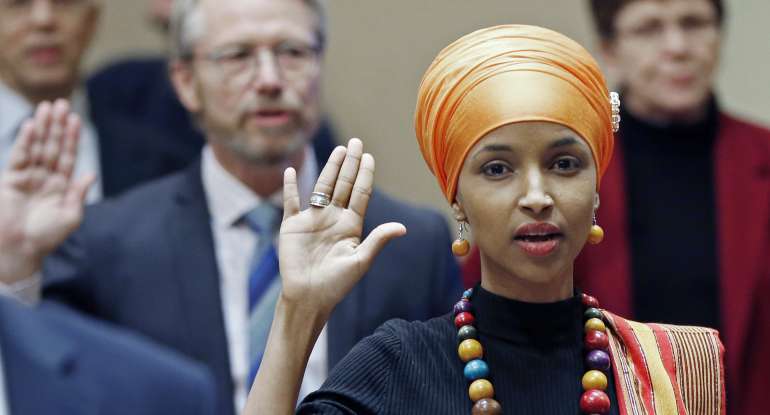 Why are Democrats so determined to protect each other, no matter what?
If there is someone openly saying racist things in the Republican Party, wouldn't they condemn them?
Democrats would demand that Republicans punish a congressman if he said something anti-Semitic; even push them to remove him from office.
Shouldn't that be the same case on the left?
But in the end, leftists prove they care more about protecting each other than ANYTHING else. Agree?
Source: Breitbart