Omar Had One Last Chance To Apologize – Guess What She Did Instead?
Here's a hint – she's not saying sorry for her Anti-Semitism…
Americans were shocked when newly-elected Democrat Ilhan Omar was exposed over anti-Semitic comments.
Then, it was quickly discovered that she had a history of spreading anti-Semitic views.
Democrats were forced to do damage control; they claimed they were going to pass a resolution condemning anti-Semitism in their ranks.
Instead, they ultimately passed a water-downed version, which ignored anti-Semitism entirely.
And now, though it was Omar who started all this, she's claiming victory!
From The Right Scoop:
"Ilhan Omar just released a joint statement with Andre Carson and Rashida Tlaib, the two other Muslim representatives in the House…

…claiming victory after the resolution vote against 'all hate' passed the House.

In the statement they praise the historic resolution that condemned bigotry and hate against Muslims."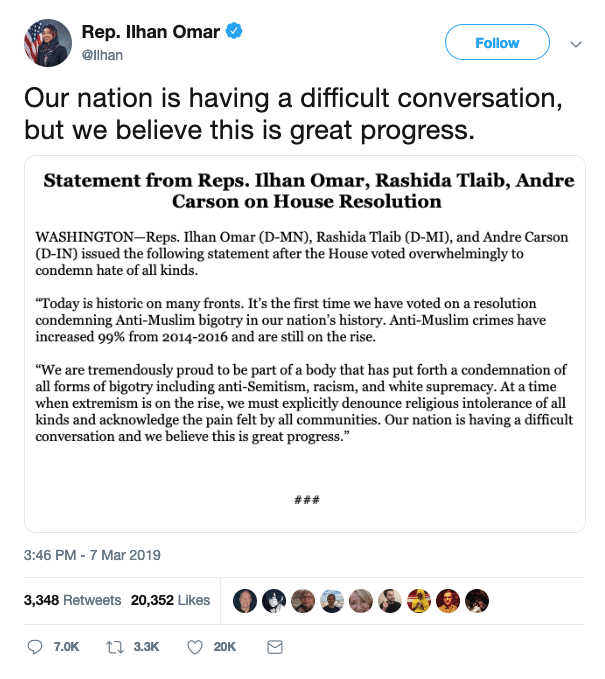 Do YOU see an apology anywhere in that statement?
The ironies and blatant hypocrisy are just sickening:
Firstly, this Muslim Democrat is claiming there is plenty of hate against Muslims in this country … even though as a Muslim woman of color, she was just elected to the House.
Secondly, she doesn't even acknowledge that this "hate resolution" wouldn't even EXIST if it weren't for HER hateful comments!
On top of it all, Democrats refused to openly condemn Omar for her bigoted stance against an entire ethnicity and religion.
Instead, they gave her a pass.
They did it, most likely, because as a Muslim woman of color, she's immune in this toxic liberal hierarchy.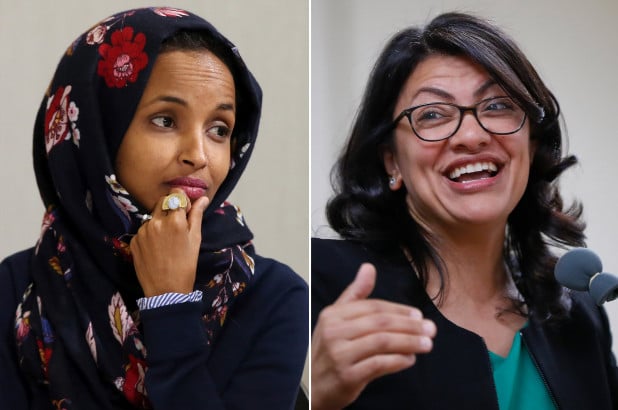 Ignoring Martin Luther King's charge to judge someone not by the color of their skin but character, they refuse to hold Omar accountable over her hateful attacks.
Ilhan Omar learned a powerful lesson, all right, as did the rest of America:
Because she is a Muslim woman of color, she can get away with anything.
For over fifty years, Democrats have claimed to be the party that fights racism, discrimination, and bigotry. They tell us we are the racists and they championed Civil Rights.
However, when very real bigotry goes on among their own ranks, they do nothing … in fact, they seem to be rewarding it.
SHARE to tell Omar and the rest of the Democrats that we demand a REAL apology!
Source: The Right Scoop