Officer Stops Car With Expired Plates – Instead Of A Ticket, He Has A Better Idea
WOW! I can't believe what this cop was willing to do!
When Officer Roger Gemoules spotted a car driving with expired plates, he quickly pulled it over.
A few minutes later, he realized the 22-year-old's driver's license had expired, too.
Cut-and-dry situation, right? You're getting a ticket, no two ways about it.
But instead, a few minutes later, the driver was sitting in the passenger seat of the officer's cruiser!
…okay, what the heck is going on here?!
Well, as it turns out, the driver, Ka'Shawn Baldwin wasn't trying to get away with anything.
No, he didn't have a valid license or registered plates, but he desperately needed to get to a job interview!
Hard to pay for things without a job, right?
And the kid seemed awfully sincere, according to what Officer Gemoules told CNN:
"He was very respectful when I pulled him over and you could just tell…

…I could feel that he really was wanting to get to this job interview."
So, rather than heaping more trouble on the already burdened Baldwin, this cop chose to be supportive.
Instead of punishing the kid for simply trying to be a contributor to society, Gemoules had a much better idea:
Forget the ticket. And though he couldn't allow Baldwin to continue, he could certainly give the kid a lift to that interview!
And guess what?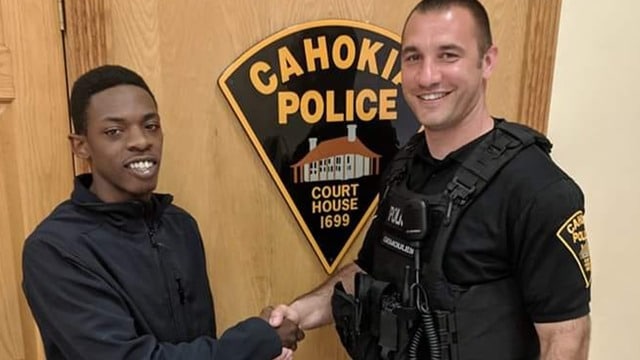 Baldwin DID get that job! And all thanks to a police officer who chose to be a compassionate human first, and a lawman second.
Sometimes, that's just what the community needs, you know?
And Gemoules is getting the proper recognition for his good deed, too.
As the Cahokia mayor's assistant Francella Jackson said:
"On behalf of [the mayor], I would like to thank Officer Gemoules for showing compassion and being a great example of how community-oriented policing actually works."
How's that for a fantastic commendation?
Everyone, including other police officers, can learn a valuable lesson from this story, wouldn't you agree?
SHARE so this compassionate cop gets more of the recognition he so richly deserves!
Source: Good News Network