Days After Mueller Report Drops, Trump's Approval Rating Takes A Sharp Turn
Even Donald was not expecting a swing like this.
Trump's approval took a beating early this year. That's not a big surprise when his media coverage was 92% negative.
But even the liberal outlets couldn't hide the good news of Mueller's report clearing the president.
That little nugget brought his 2020 chances way up – congratulations Donald!
With all that good news, Democrats say they will still push for his impeachment, even without evidence from Mueller.
But Americans are telling a different story, according to Trump's latest numbers. From Rasmussen Reports:
The Rasmussen Reports daily Presidential Tracking Poll for Thursday shows that 50% of Likely U.S. Voters approve of President Trump's job performance. Forty-nine percent (49%) disapprove.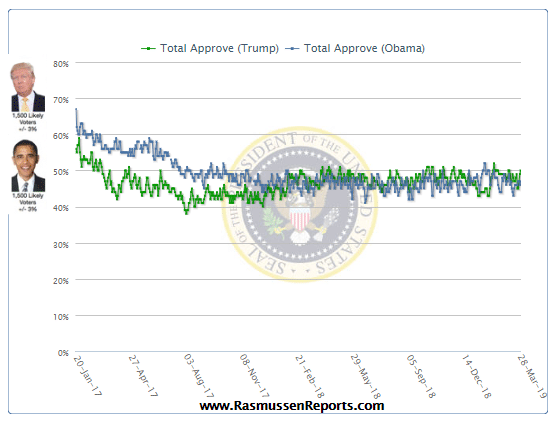 Trump was at 45% on Monday. The new report puts Trump at a 50% approval rating, a 5% skyrocket in just a few days, with 37% of Americans strongly approving of his performance.
Great job, Donald! Do you strongly approve of Trump's performance?
And, at that rate, it will surely go even higher from here. Probably only people who still disapprove of him are people that still watch the liberal news.
But the rest of the country knows better. After two years of constantly pushing the Russia story, the media has been proven wrong about Trump.
Just like they've been proven wrong about his policies and agenda, again and again. Am I right, folks?
Trump's vision for America has clearly resulted in a booming economy, with more jobs and higher wages.
But the media won't give up without a fight. They might apologize for a short while, but with the 2020 elections coming up, patriots need to watch out for the news they read.
SHARE if you believe Trump's numbers will go even HIGHER in the coming days!
Source Rasmussen Reports