Girl With Brain Tumor Loves Dogs – So 40 Police Departments Show Up At Her Door
When 7-year-old Emma Mertens was diagnosed with a rare brain tumor, her parents were devastated.
It was the worst news any family could receive:
Emma had a Diffuse Intrinsic Pontine Glioma, which is unfortunately inoperable.
However, despite it all, this little girl is still smiling!
See, Emma just loves dogs. And soon after her diagnosis, she started asking people for photos of dogs on social media.
Well, the response was overwhelming, as hundreds of photos and letters started pouring in.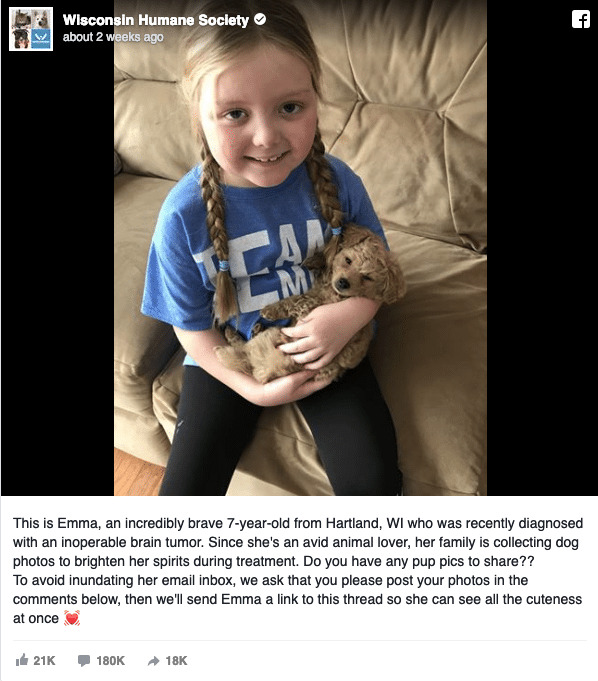 That alone is plenty heartwarming, right?
But wait, it gets better.
The local police (including K-9 officers) got wind of the situation, and that's when 40 departments banded together to give Emma the best gift ever.
Via Facebook: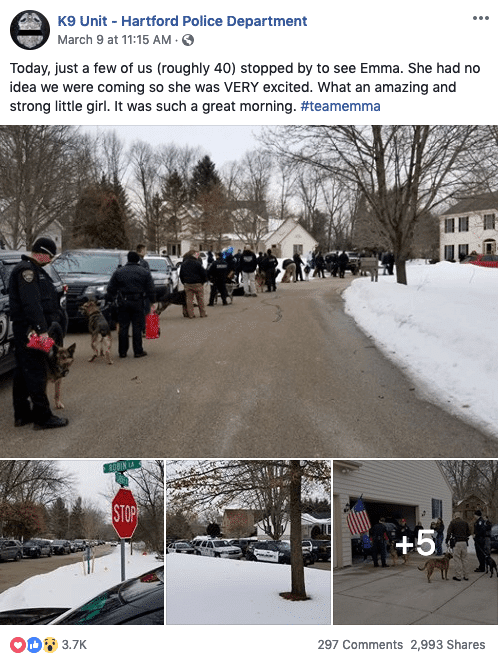 "Today, just a few of us (roughly 40) stopped by to see Emma.

She had no idea we were coming so she was VERY excited.

What an amazing and strong little girl. It was such a great morning."
It was quite the day for Emma!
And as for her parents and family, they couldn't have been more flattered.
They went online and wrote:
"There are no words….Pure Joy!

"Thank you to everyone who took the time to organize and participate in this. Emma is still all smiles!"
Police serve many different functions in society; it isn't just about nabbing criminals and making traffic stops.
They are supposed to be role models, and they're supposed to stand up for the citizens.
Here, the men and women in Blue proved just how valuable they are, and we've got just one thing to say in reply:
BLUE LIVES MATTER! SHARE if you agree!
Source: Fox News