Liberals Have Been Lying About THIS For Years – But A New Poll Exposes The TRUTH
The biggest LIE liberals tell has been DESTROYED!
What's the biggest lie liberals tell?
Yeah, I know, it's hard to pick just one.
But if you really think about it, there's one myth above all they love to promote. And the mainstream media helps:
It's that America is dominated by liberals.
The Left doesn't merely want you to believe they're in the majority; they want you to believe they're in the vast majority.
It's the lie they spread throughout 2016 … just before Donald Trump was elected as President of the United States.
That alone helped expose the lie. But now, incredible new poll results essentially PROVE the lie.
Via Western Journal:
"Recent polling has some good news for the conservative cause: More Americans identify as conservative than as liberal.

Gallup's 2018 tracking polls in all 50 U.S. states asked respondents to self-identify as either liberal, conservative or moderate.

The aggregated results, which were released Friday, show that more respondents identified as liberal than as conservative in only six states.

Gallup previously reported that on a national level, conservatives outnumbered liberals 35 percent to 26 percent in 2018."
There were only six states in the entire country where liberals outnumbered conservatives (Hawaii, New Hampshire, New York, Massachusetts, Vermont, and Washington).
It was a virtual tie in California, if you're wondering.
As for the other 43 states, it was clear that conservatives hold sway. And in some states it's not even close.
In the most liberal state (Mass.), liberals only outnumber conservatives by 14 points.
But in the most conservative state (Mississippi), conservatives lead liberals by a whopping 38 points (50 percent to 12 percent).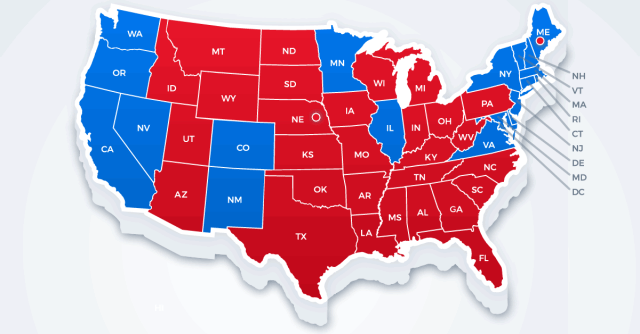 In fact, the poll results show conservatives "have a significant advantage" in 25 states; in highly conservative states, the latter outnumbers liberals "by at least 20 percentage points."
These numbers are sure to stun every liberal and Democrat in America, because – of course – they believe their own lie that they're in the majority.
Not true. Not even CLOSE to true.
Make sure you SHARE these results with everyone, especially those who think liberals dominate America!
Source: Western Journal