Judge in Trump Case Suddenly in Trouble – New Accusation Shakes Up Donald's Trial
What's Happening:
From the very start of the New York civil trial against Donald Trump, many were skeptical. The judge presiding over the case, Arthur Engoron, has been accused of having an anti-Trump bias.
Recently, he refused to let Trump read a disclaimer from his banking records that might have destroyed the prosecution's case. Previously, he sparked outrage when he smugly smiled at reporters' cameras.
Now, one right-wing activist is blowing the whistle on a possible connection to Judge Engoron. If true, Trump's team might move for a mistrial.
From The Post Millennial:
Screenshots obtained by investigative journalist Laura Loomer showed that Mrs. Engoron created, liked, and shared a number of anti-Trump posts, many of which were directly related to the trial.

One post included an AI-generated image of Trump bald in an orange prison jumpsuit next to one of an old lady scrawling "F*ck Trump" on a brick wall. Another was simply the latter.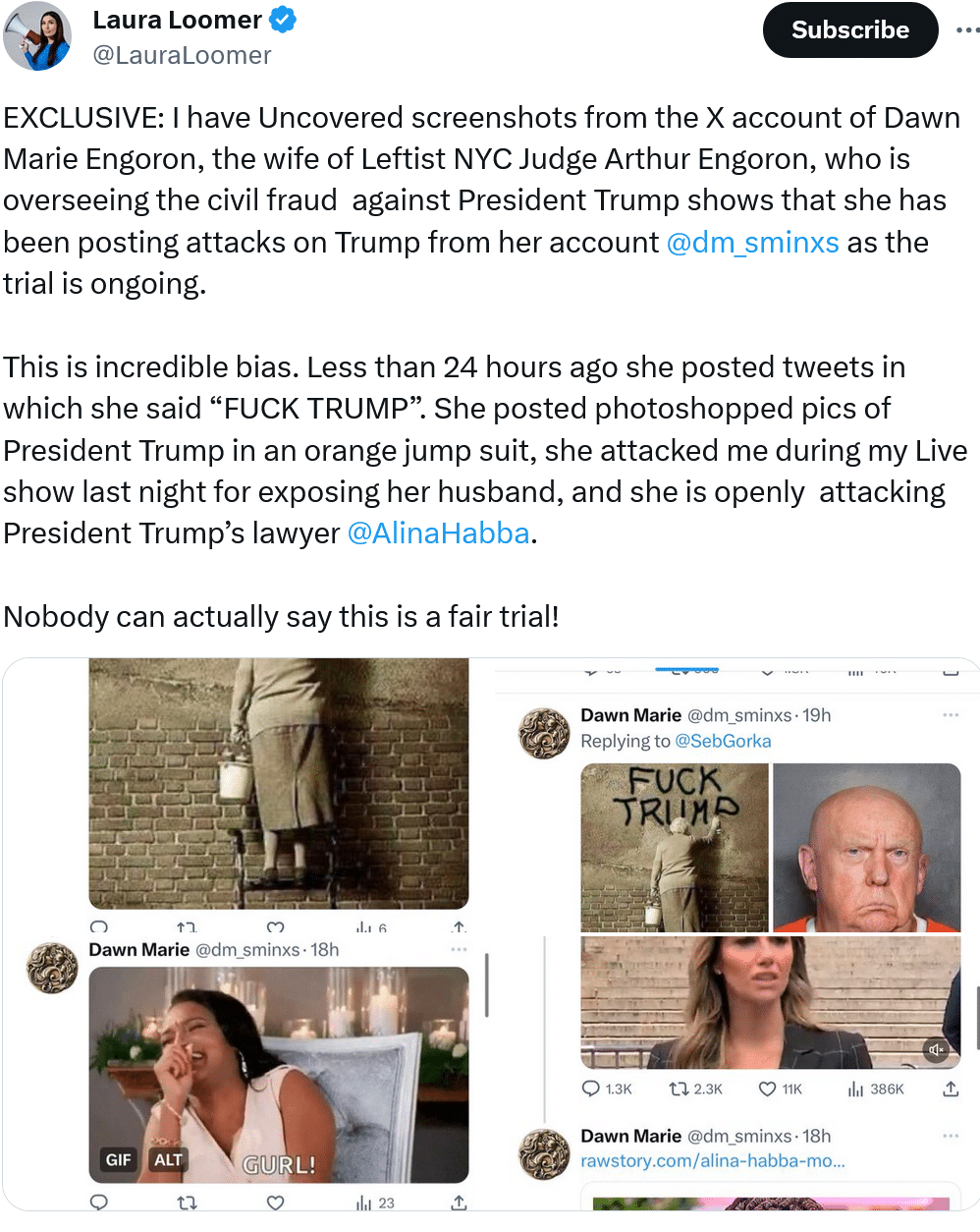 Posts have emerged that suggest the wife of Judge Engoron has posted a variety of anti-Trump images to X. Some of them include AI images of Trump in prison, while others contain expletives against the former president.
Many Trump supporters have expressed doubts that Judge Engoron will rule fairly. Trump has repeatedly accused Engoron of having a bias against him. Considering the case is being held in blue New York, many will agree with Trump.
These posts could prove that Engoron holds a strong bias against the defendant. Should Americans believe whatever ruling he gives is fair, if his wife really is behind these posts?
According to Newsweek, a liberal website, Engoron's wife denied making the posts.
From Newsweek:
Judge Arthur Engoron's wife, Dawn Engoron, denied making social media posts attacking former President Donald Trump in a statement to Newsweek…

"I do not have a Twitter account. This is not me. I have not posted any anti Trump messages," she said.
It is common for public figures to claim social media posts are not theirs, sometimes claiming their accounts have been hacked. It is unclear if Engoron is backtracking or if her statement is factual.
Regardless, this development will give Trump supporters more reason to distrust this trial. And Trump's lawyers might have grounds to demand it be thrown out.
Key Takeaways:
A right-wing activist has accused Judge Engoron's wife of posting anti-Trump content.
Judge Engoron is presiding over the New York civil case against the former president.
Engoron's wife has claimed the posts are not hers and she is not on X.
Source: The Post Millennial, Newsweek