Ivanka Trump Races to the Hospital – She Just Got the Phone Call "Every Parent Dreads"
Parents know there's one fear above all others: the fear that something terrible will happen to one of their children.
Ivanka Trump has been a happy mother for several years now, and her kids have been – reportedly – healthy and content.
But Ivanka recently got "the phone call every parent dreads."
Ivanka's son Theo was a star almost the instant he was born, as hundreds of thousands viewed pictures and videos of the new child as an infant.
So now, most citizens are well aware of Theo Trump, and his mother certainly remains very much in the public eye.
But Theo unfortunately suffered a serious injury this week (via The Daily Caller):
Former first daughter Ivanka Trump shared to Instagram on Sunday that her son, Theo, was rushed to the hospital after breaking his wrist at school.
While it's certainly something Theo will recover from, one can imagine the mother's reaction when she heard from the school that her son was hurt.
Ivanka made a post on Instagram detailing the incident, and she wrote:
This week I received a call from the school nurse that every parent dreads. My 6-year-old son Theo broke his wrist while playing soccer.

Since I was over an hour's drive away, an ambulance took Theo, accompanied by the school nurse, to the closest hospital.

Jared and I raced to meet him, Jared arriving at the same time as the ambulance and me getting there a few minutes later.
She shared a pick of Theo in the hospital and he appears to be in good spirits: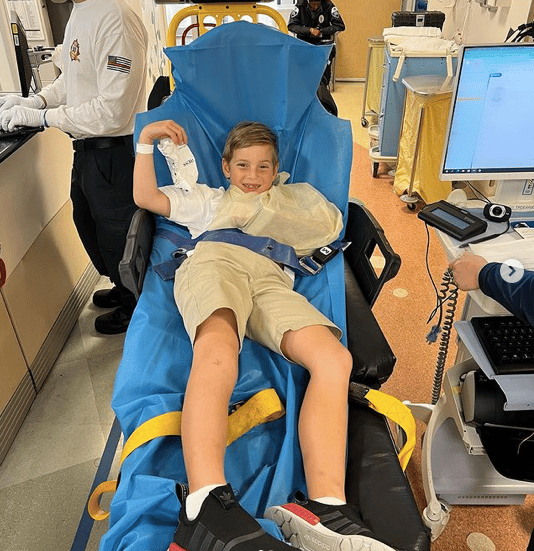 Ivanka clarified that it's a "bad break" but at least her son is in good hands.
Not only is Theo currently healing, but he also got a couple ice pops and a lot of great attention, leading him to proclaim, "this is the best day ever!"
The Joe DiMaggio Children's Hospital is taking care of the injury, and responded to Ivanka's post:
…we're so grateful for your trust in our skilled medical staff! It's a privilege to care for Theo, and all the sweet children who come through our doors.

Thank you for your support – it enables us to continue to provide high-quality care with the utmost compassion.
It's great news that young Theo is now doing well, and it didn't turn out to be worse.
So all our best wishes are going out to the Trumps today!
Key Takeaways:
Ivanka Trump got the call "every parent dreads" and raced to the hospital.
Her son Theo sustained a "bad break" of the wrist.
However, he's in good spirits and everyone is clamoring to send their well wishes to Theo and Ivanka.
Source: The Daily Caller