Top Freshman Democrat Under Serious Investigation – She Used Campaign Funds For Divorce, International Travel
Congress already tried to kick her out – maybe they will this time!
Democrats often complain about campaign finance laws. It's almost as if they're saying they would have won, if their rivals didn't have so much cash.
Tell that to Hillary!
But, as is often the case, Democrats don't seem to be following their own rules.
One of the Left's fresh new faces is in hot water and under investigation. For what? Breaking campaign finance rules.
From Fox News:
U.S. Rep. Ilhan Omar, D-Minn., will soon learn the conclusions of an investigation into allegations that she violated campaign spending laws during her time as a state lawmaker — including accusations that she used campaign money to pay for her divorce attorney and personal travel.
Investigators believe Ilhan Omar used $6,000 in campaign money on her divorce attorney. Not to mention trips to Boston and Estonia.
The Minnesota Campaign Finance Board is looking into these allegations. If they are true, this embattled Democrat might face serious consequences.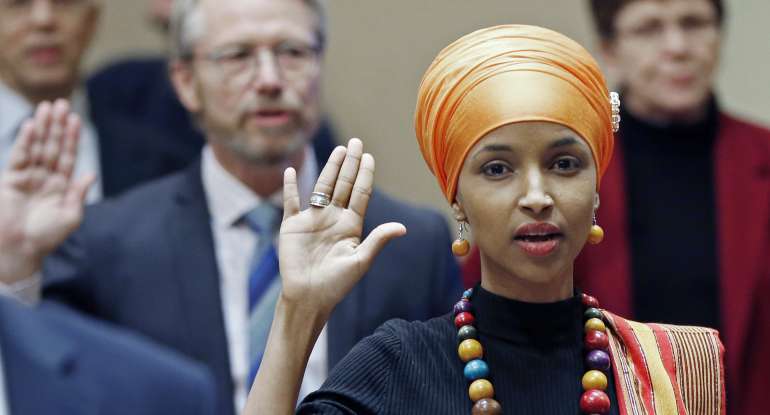 Campaign finance laws are very clear. The money raised for a campaign can only be used for the campaign.
That's so con artists won't raise a bunch of money—pretending to run for office—then drop out, keeping it for themselves.
Cash from a campaign can't be used on personal expenses like divorce attorneys or travel.
But this investigation might turn up nothing, though, right? Right…
And I have a bridge I wanna sell ya!
Omar already learned she can get away with slandering Israel and the Jewish people. Democrats refused to reprimand her for frequent remarks.
But that immunity will not extend to every crime she commits if she's found to be breaking campaign finance laws.
This could be the final straw that ends her career for good.
SHARE to tell Congress that Omar's got to go!
Source: Fox News