FBI Boss Tries To Rip Trump On Live TV, Then Donald Drops The Hammer Of Truth
POTUS just shredded McCabe's credibility!
This FBI mess has reached new heights.
The Russia farce, instigated by the Democrats, has resulted in needless investigations into the matter.
The only person we should be investigating is Hillary Clinton and yet, they keep going after President Trump!
Now, we're hearing about how the former acting director of the FBI, Andrew McCabe, was worried his Russia probe against Trump would fall apart.
As McCabe told "60 Minutes" host Scott Pelley in a recent on-air interview:
"I was very concerned that I was able to put the Russia case on absolutely solid ground, in an indelible fashion.

That were I removed quickly, or reassigned or fired, that the case could not be closed or vanish in the night without a trace."
But our Commander-in-Chief wasn't about to let this stand.
The idea that he's guilty of colluding with Russia is ridiculous, as he's stated many times in the past.
Furthermore, Trump jumped on Twitter to remind America of McCabe's past … which completely destroys his credibility.
Part 1: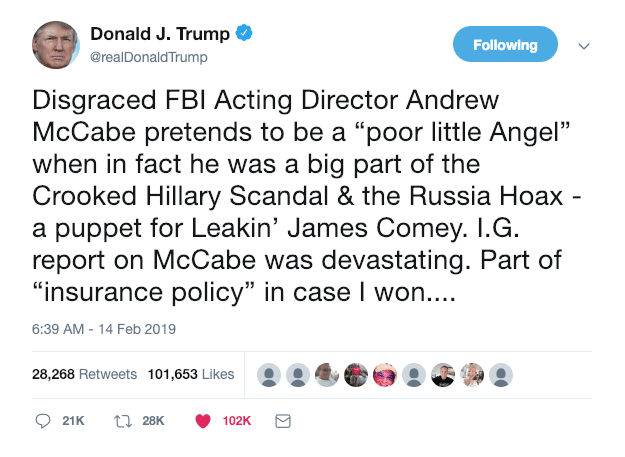 Part 2: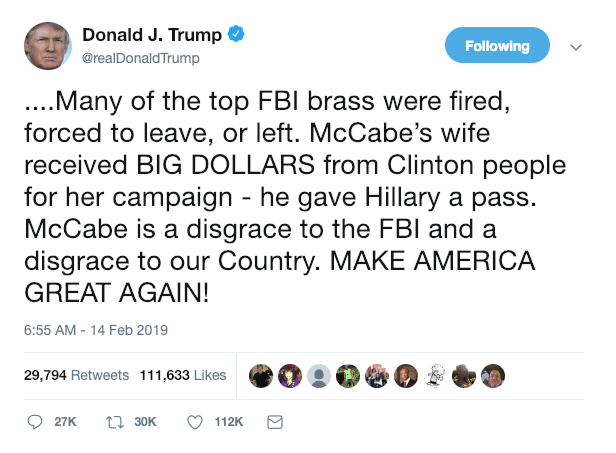 "Many of the top FBI brass were fired, forced to leave, or left. McCabe's wife received BIG DOLLARS from Clinton people for her campaign – he gave Hillary a pass.

McCabe is a disgrace to the FBI and a disgrace to our Country. MAKE AMERICA GREAT AGAIN!"
Trump never holds back, does he?
McCabe's credibility was already very much in question, too.
Last April, the Department of Justice's inspector general released a report that said McCabe:
"…lacked candor, including under oath, on multiple occasions in connection with describing his role in connection with a disclosure to the (Wall Street Journal) in violation of FBI policy…
… and his disclosure of the existence of an ongoing investigation in the manner described in this report violated the FBI's and the Department's media policy and constituted misconduct."
In March 2018, Attorney General Jeff Sessions fired McCabe, and rightfully so.
Democrats can continue to spread this false Russia propaganda all they like, but we know the truth.
And Andrew McCabe certainly shouldn't be pointing any fingers, not after admitting the FBI targeted POTUS!
SHARE if you agree with Trump that McCabe was just Comey's "puppet!"
Source: Western Journal