Deplorables Fed Up With AOC's Squad – Buy Billboard To Set These 4 Ladies Straight
This billboard just made my week – the Squad deserves it!
Alexandria Ocasio-Cortez and her "squad" of freshman congresswomen have become a force of nature—they may singlehandedly take down the entire Democratic Party.
Their incessant whining, back-biting, and disrespect for their own leaders might be the very end—an Apocalypse—of Pelosi's career.
The media have tried to protect these un-American and socialism-loving women. But deplorables across the country have had enough.
One group of deplorable patriots bought a billboard to tell the squad just what we think of them.
And it's truly wonderful. What do you think?
From ABC 11: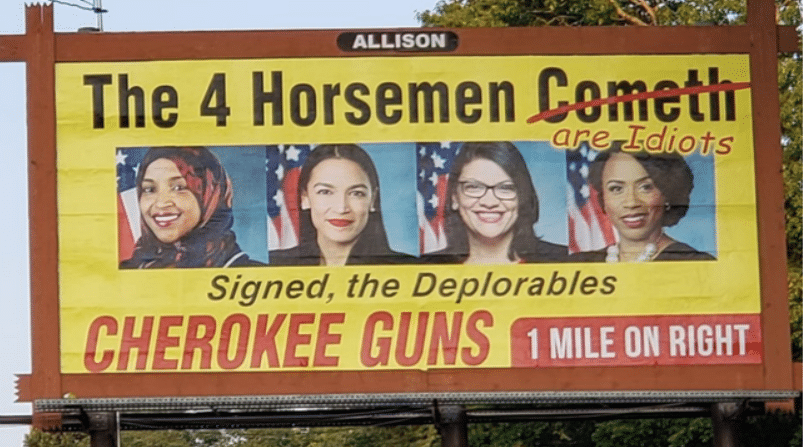 The billboard funded by a local gun shop then shows a red line striking out the last word, editing the phrase to instead say "The 4 Horsemen are Idiots."

The Charlotte Observer reports the billboard by Cherokee Guns targets the same congresswomen who President Donald Trump recently told to return to the "crime infested places from which they came."
Boom! You know that's gotta hurt.
A gun store in North Carolina put up a billboard that both roasts the "squad" and cleverly promotes their business.
That's what we call a free market double-whammy!
The billboard shows the faces of AOC's and her socialist squad. The words "The 4 Horsemen Cometh" are above it. The word "cometh" is scratched out, replaced with "are idiots."
Priceless, truly priceless.
Beneath the liberals' faces are the words, "Signed, the Deplorables."
Democrats continue to walk in Hillary's footsteps, calling us ignorant, backward, and much worse.
We are just as deplorable to them now—for our patriotism, faith, and values—as we were back in 2016.
So, you'll have to forgive this gun shop for giving AOC a piece of their mind.
This "squad" has done nothing in their short time in Congress. They pushed not only a "Green New Deal" that would bankrupt the country—but a law that would allow companies to boycott Israel.
I'm sure these ladies won't be too happy to see this billboard as it circulates social media. They will probably attack this gun shop, simply for exercising their First Amendment rights.
But I think these deplorables make a good point, don't you?
SHARE if you're a Deplorable who is sick and tired of the "Squad"!
Source: ABC 11