Days After Democrats Implode, Trump's Approval Ratings Take A Left Turn
The American people have spoken – Democrats should cover their eyes.
Last week was a whirlwind of news. I hope you were able to keep up!
Trump gave a powerhouse speech. Three top Democrats in Virginia were outed for serious problems. And numbskull Alexandria Ocasio-Cortez released one of the most ridiculous proposals of all time.
The president has enjoyed a great week. Democrats suffered serious setbacks.
Just over the weekend we reported Trump's swing, and that it may be the beginning skyrocketing approval.
Well, now we have the numbers to prove it.
From Rasmussen Reports:
The Rasmussen Reports daily Presidential Tracking Poll for Monday shows that 52% of Likely U.S. Voters approve of President Trump's job performance. Forty-seven percent (47%) disapprove.
Trump's highest level of approval since shortly after his inauguration.
The latest figures include 39% who Strongly Approve of the job Trump is doing and 39% who Strongly Disapprove. This gives him a Presidential Approval Index rating of 0.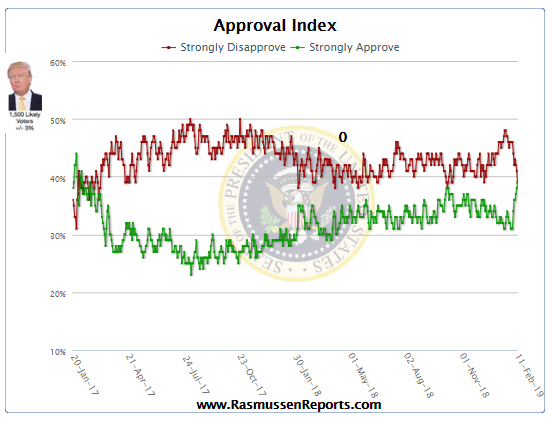 SHARE if you approve of the job President Trump is doing!
President Trump's approval always seems to go up and down over the course of major events.
But we've seen a trend recently that's pretty significant. Over the New Year, the country suffered a government shutdown.
Democrats dug in their heels, refusing to fund border security.
They tried to pin it on the president. But through it all, his numbers rose.
You'd think the liberal media would have torn his speech apart. He called for strong border security and condemned socialism.
And, would you look there? His numbers have reached record highs!
It's almost as if, the media LIES about everything!
Meanwhile, the numbers among Congress have been in the toilet. Recent approval numbers for Con Women in Chief, Nancy Pelosi, are terrible.
AOC—the newbie congresswoman who put forward the "Green New Deal"—is humiliating the left with her terrible ideas.
And Virginia Democrats perhaps doomed their entire party. At least in that state.
Seems like more Americans are waking up to the fact that Democrats are a terribly toxic group of losers.
SHARE if you approve of the job President Trump is doing!
Source: Rasmussen Reports