Top Democrat Caught Maskless For Masked School Photo-Op – So Megyn Kelly Rips Her To Shreds
What's Happening:
A radical activist that lost the 2018 Georgia governor race is gearing up for another run. The Democrat lost her chance last time after a photo came out showing her burning the Georgia flag. Additionally, the woman is an extreme socialist, whose agenda is not popular among most Georgia voters.
But who said you can't rig an election to get your way—right, Stacey Abrams?
It looks like another photo might doom this leftist. She appeared for a photo op at a school. But the moment didn't go over well. That's because she appeared in front of a large crowd of students and teachers, all wearing their COVID face diapers.
But, oddly enough, the candidate did not wear a mask. Can't hide your face, eh Stacey?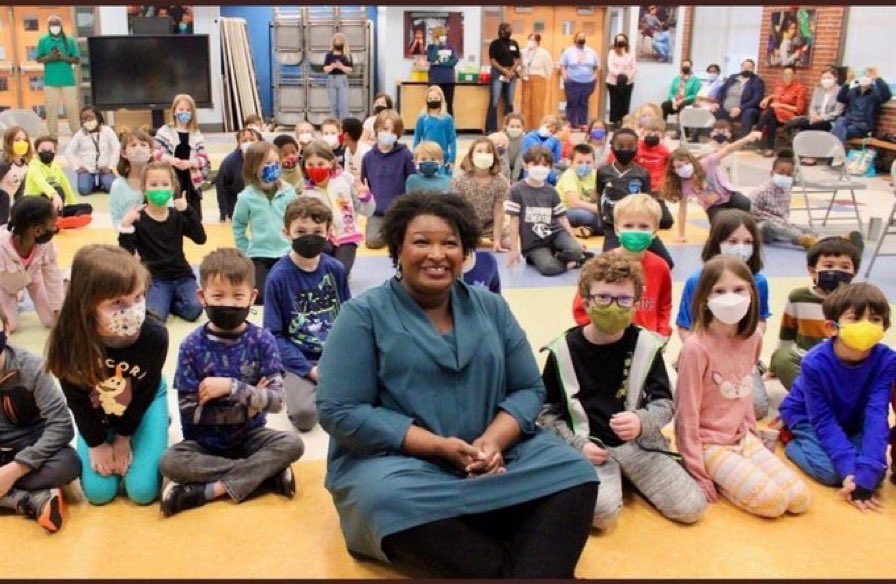 Now conservative host Megyn Kelly ripped Stace a new one.
From Daily Wire:
The Abrams campaign released a statement on Instagram that contained no apology or mention of the fact that the children had to be masked for the photo, prompting former Fox News anchor and current podcast host Megyn Kelly to fire on Twitter, "So, she's not sorry, and the kids can shove it. Got it."

Kelly added in all caps. "UNMASK OUR CHILDREN."
Megyn Kelly slammed Abrams' campaign after it released a statement over the viral photo. In all their hemming and hawing, not once did they apologize for Stacey's lack of a face diaper.
These are the same leftists who criticize Republican states for not imposing ridiculous mask mandates. They claim that if you don't wear a flimsy piece of cloth over your face (restricting your breathing and dehumanizing you) you are trying to kill people.
Yet Stacey had no problem not wearing a mask for that photograph. Hey, she's running for governor, she can't hide her face, after all. But if she really believed face diapers are effective at stopping COVID (they're not, just look at the numbers), she would have worn one, right?
How many times have we seen Democrats defying the very mandates they demand of us? Pelosi infamously broke lockdown to get her hair done. Gov. Newsom of California was partying at closed restaurants.
And how many illegals is Biden letting in—untested and unvaccinated? Yet he's willing to put Americans out of work for not getting the shot?
Stacey is clearly no different than the rest of these clowns. If she really feared COVID (as the media demands), she wouldn't be caught dead with all those students. Why are they even in class? Shouldn't they be huddled in their homes, suffering mental decline, forced to participate in Zoom calls?
It's possible Abrams' campaign is already over.
Key Takeaways:
Democrat candidate for GA governor seen in a classroom without a mask.
All the students and teachers were forced to wear face masks.
Megyn Kelly ripped Abrams after her campaign refused to apologize.
Source: Daily Wire