Democrat Frontrunner Gift-Wraps 2020 For Trump – She Just Jumped On The 'AOC Train'
Even Donald can't believe the Democrat frontrunner is imploding this fast.
Instead of tackling some of America's real problems, like the national debt, the massive increase in homelessness, or the drug epidemic, the Democrat's top priority is…climate change.
Left-wing darling Rep. Alexandria Ocasio Cortez has spearheaded a bill called the "Green New Deal", and it's just as liberal as it sounds.
The Left truly believes that the government should ban oil and gas production, eliminate trucks, airplanes, boats, and 99 percent of cars, and even ban "cow emissions".
Cow farts, people. Cow farts…
Never mind that this bill would destroy the economy and is completely impossible. But nothing will stand in the way of their socialist wish list, right?
This bill is nothing short of authoritarian Marxism, and a leading Democrat not only supports it – she's co-sponsoring it. From Twitter: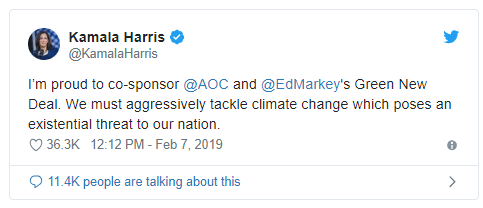 I'm proud to cosponsor @AOC and @EdMarkey's Green New Deal. We must aggressively tackle climate change which poses an existential threat to our nation.
SHARE if you think Democrats don't stand a chance against Donald Trump in 2020!
And this woman wants to run for President? How does Harris expect to appeal to Middle America, a crucial demographic, with such an insane platform?
Twitter agreed, and many mercilessly mocked her over this ridiculous proposal.

Then can you explain what you plan to do with all the cows? We could send them to Cow Fart Island, I guess, but they'll still be ruining the environment. Should we launch them into space instead? Please advise.

Moronic @AOC green deal abolishes farting cows, all combustion engines and all airplanes. It's hard to believe anyone with a brain supporting these people.
Why are Democrats spending so much time battling something that doesn't even exist? Next, they will propose legislation to outlaw the boogeyman, Bigfoot, and the Loch Ness monster.
Many scientists agree that manmade climate change is a myth and that the planet has always gone through cooling and heating periods before mankind even existed.
If Harris wins the Democrat nomination, she's gift-wrapping President Trump's re-election.
Who can run on bankrupting America and taking away steak, cheese and ice cream?
SHARE if you're going to vote in Trump's 2020 Red Wave against socialism!