Heartbroken Crowd Watches Notre Dame Burn – Then Their Lips Start Moving In Unison…
SO touching and unbelievable!
When one of the most iconic landmarks in Christianity burned, the world mourned.
As I'm sure you already know, Notre Dame Cathedral was engulfed in flames this week.
The massive fire sadly destroyed much of this historic landmark.
Some experts say it will take a decade or more to repair what was destroyed. But nothing will bring back the priceless work that was ruined.
It was a truly sad day, a day many Christians will remember with tears in their eyes.
But through the tragedy, men and women gathered outside to do something remarkable…
From Western Journal:
"As Notre Dame burned, bystanders gathered, gazing up at the flames and the smoke rising heavenward…

A few clutched rosaries and appeared to be praying.

But they all shared one thing in common: They were singing 'Ave Maria' in mournful, multi-part harmony."
Ave Maria pic.twitter.com/lb6Y5XV05a

— Ignacio Gil (@Inaki_Gil) April 15, 2019
You can't keep the faithful down.
As this cherished piece of Christianity burned, Parisians and others united in prayer and worship.
Remember: Notre Dame Cathedral is more than just a historic landmark: it's a testament to a faith that is shared by billions around the world.
Now, many have speculated over the cause of the fire.
After all, this is just another in a series of terrible church fires that have occurred throughout France.
However, while we might not know the direct cause of these events, it's clear that the Christian faith is under siege.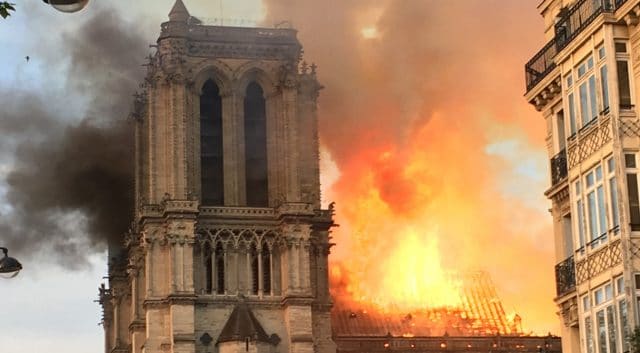 Tribulation and challenges are a part of faith; those who believe in God are always tested and faced with trials.
But the act of prayer and song, as the flames raged, is proof that trials cannot snuff out the faithful.
And there is good news for the future:
French billionaires are pledging their support for the restoration of Notre Dame Cathedral, so millions of dollars will be donated to ensure this iconic part of France's history and religion will not be forgotten.
There IS hope that the church will be restored to its former glory … but until then, the faithful will continue in their dedication and passion.
SHARE if you support the restoration of Notre Dame Cathedral!
Source: Western Journal