Congress Strikes James Comey Hard – Hillary's In Serious Trouble
Time just ran out on Comey, and Hillary is the one who should be worried.
The former FBI Director has never been held accountable for his involvement in the Hillary Clinton cover-up. Why? Because he's never told the truth about it.
During public hearings, Comey repeatedly shot down questions, but then used the media spotlight to advance his personal brand.
Comey has been soaking up the attention Democrats and the media are giving him, sitting down for high-profile interviews and scoring book deals.
Comey was recently called to testify again before Congress, but he demanded in a lawsuit for the hearing to be totally public.
Republicans were concerned that this was a chance for Comey to once again go off the rails, just like he did in the past.
But now they've changed the rules on him.
From the New York Post:
Former FBI Director James Comey said on Sunday that he has reached a deal with House Republicans to testify at a closed-door hearing this week about the agency's actions during the 2016 presidential election.

"Grateful for a fair hearing from judge. Hard to protect my rights without being in contempt, which I don't believe in. So will sit in the dark, but Republicans agree I'm free to talk when done and transcript released in 24 hours," Comey tweeted from his account. "This is the closest I can get to public testimony."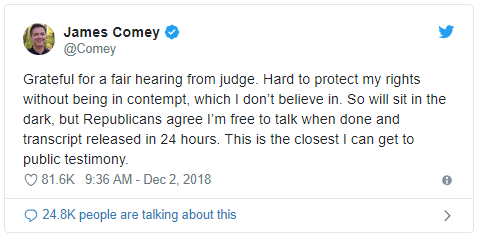 SHARE if you think Comey and Hillary are guilty of colluding against Trump!
Comey tried to get out of the House Judiciary Committee's subpoena to testify privately, but once again he has failed.
It's obvious why Comey resisted the subpoena and wants a public hearing.
Not only does a televised proceeding give him more of the attention he so obviously craves, but it would also give him the opportunity to avoid answering questions directly.
Last time he was brought before the Committee, Comey claimed multiple times that he could not talk about classified information for "national security" reasons.
But in a closed setting, Comey will have to talk or plead the 5th.
The disgraced director will finally have to answer for his crimes, including his false accusations against former Trump advisor Carter Page.
Page, an innocent American, was accused of being a Russian spy so that Comey's FBI could get a FISA warrant to spy on the Trump campaign.
This is a serious violation of civil rights that directly allowed Comey to illegally monitor Clinton's opponent.
NO ONE deserves to have the book thrown at them more than Comey.
SHARE if you think Comey and Hillary are guilty of colluding against Trump!
Source: New York Post