American Communist Calls For Hitmen To Go After ICE, Then Gets A Knock On His Door
Since the media has slandered ICE, more and more radicals have called for the agency's demise.
But one insane leftist has literally put his money where his mouth is:
One self-confessed Communist and anarchist took to Twitter, offering up hard cash for anyone to kill an ICE agent.
This is illegal, dangerous, and of course, not a smart thing to do.
Even if you hate Immigration and Customs Enforcement (for some reason), ordering up a hitman on Twitter is a bad move, and you're going to pay the consequences.
Even though the man had a small following, word got around. In fact, word reached the FBI, and as it turns out … they were none too pleased.
From Daily Wire:
"A Massachusetts man was arrested after offering $500 on Twitter to anyone who killed an Immigration and Customs Enforcement agent.
According to Masslive, 33-year-old Brandon Ziobrowski of Cambridge posted the tweet in July, writing:
'I am broke but I will scrounge and literally give $500 to anyone who kills an ice agent. @me seriously who else can pledge get in on this let's make this work'
The account, with just under 500 followers, was discovered by officials who, according to the indictment, were scanning 'the Internet for any domestic and international terrorism threats.'
It was suspended after requests from the FBI's Joint Terrorism Task Force."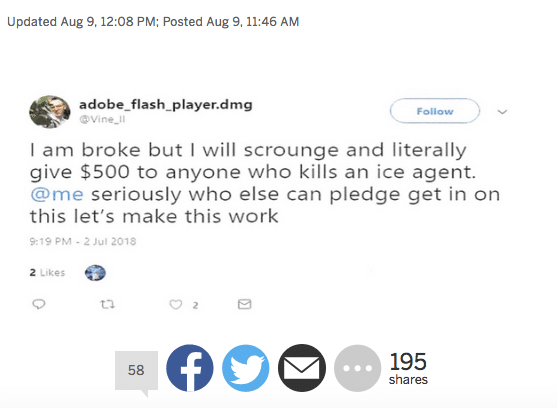 And guess what?
This wasn't even the first time Ziobrowski expressed violent intentions online. According to his indictment, he repeatedly tweeted about wanting to "slit" John McCain's throat.
This is just out of control … a man talks about killing a senator and nothing happened?
I'm sure if he said the same about Nancy Pelosi, he'd be in jail by now, right?
At this point, we are seeing many—far too many—liberals express violence towards conservatives. "Occupy ICE" protesters scream racial slurs at police officers and endanger their lives.
Is it any surprise that this man was looking for a hitman to kill an ICE agent? Sadly, not to me.
This is the climate the left has created against law-abiding citizens and law enforcement agents, and it's sickening.
Ziobrowski, for his part, faces five years in jail but that doesn't seem long enough. How long do YOU think he  should sit in prison?
Source: Daily Wire