After CNN Host Goes Off The Rails, Trump Sells New 'Fredo Unhinged' Tee In His Honor
Fredo lost it –  and now Donald is going to rake in millions with this shirt!
You've probably heard all about how CNN's Chris Cuomo lost his cool when someone called him "Fredo."
The so-called cool and collective newsman let loose a series of curses and even threatened the man.
Video of the encounter spread like wildfire, becoming a big viral hit this week.
Not to miss a golden opportunity, Donald Trump's re-election campaign has memorialized this moment. With a brand-new t-shirt.
The Trump train will be raising serious cash with this simply hilarious piece of clothing.
From Fox News:
The Trump campaign is selling "Fredo Unhinged" T-shirts following a viral video of CNN host Chris Cuomo's encounter with a man who apparently taunted him by calling him "Fredo."

The shirt, which is on sale on Trump's campaign merchandise store for $34, features images of Cuomo's face from the video.
Here it is: it's beautiful, isn't it?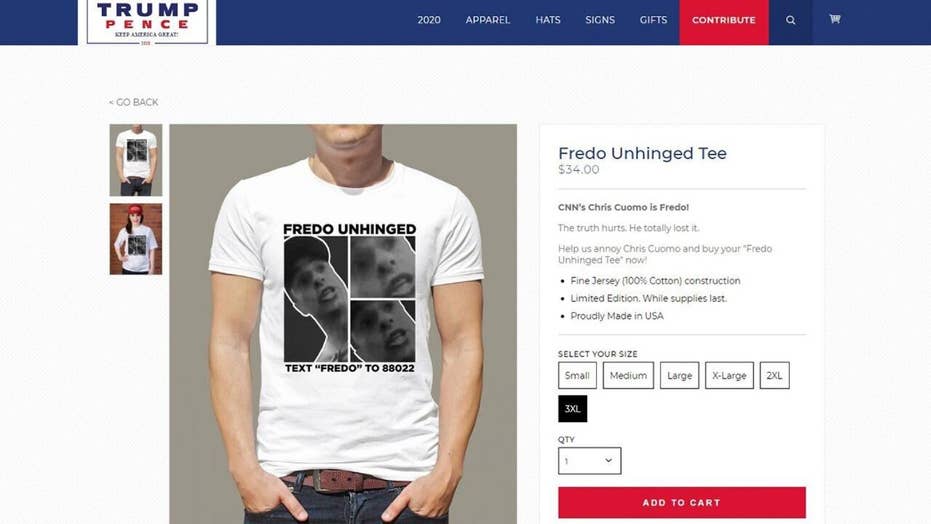 I really hope this shirt takes off. Imagine seeing thousands of Trump supporters wearing this shirt at the next rally!
CNN will have to air footage of Trump speaking to a crowd wearing shirts of their own anchor!
Only Trump would have the guts to sell a shirt like this. What other campaign is clever enough to even think of this?
Honestly, the left just doesn't have a sense of humor. Just look at the kinds of t-shirts, posters, and memes they post about Trump and conservatives.
It's weak stuff if you ask me.
If they still had any kind of guts and creativity, they would be doing this too!
Only conservatives and Trump supporters are creative enough to both mock the left while making a pretty penny.
Trump knows how to expertly use his enemies for his own benefit. He did it in 2016. He does it every day in office. And now, he's doing for 2020.
SHARE if you would buy a Fredo shirt to help Trump win 2020!
Source: Fox News