'Clinton Tour' Ticket Prices PLUMMET – Guess How Much They Are NOW?!
I know what you're thinking:
Why are the Clintons still in the news? Well, that's a darn good question…
Bill Clinton hasn't been president since 2000. His wife bounced around Washington, D.C., then lost to Trump in 2016, and that's it.
In fact, she lost her bid for president twice, and has nothing to offer the American people.
Both of these clowns should have long ago retired to private life.
And yet, here they are, forcing themselves onto Americans with their pointless, tired, and nonsensical "tour."
But it seems few Americans actually care about these two has-beens. Why? Because ticket prices for their events are plummeting.
From Breitbart:
"Ticket prices to see former President Bill Clinton and Hillary speak have gone as low as $7 in some locations– and the seats are still empty.
Former President Bill Clinton and failed presidential candidate Hillary Clinton have been touring the U.S. and Canada for months, with dates stretching into mid-2019.
Unfortunately for the Clintons, people seem to be quickly losing interest in entertaining their nostalgia and opinions on the current state of the nation.
Tickets currently range from $7 to $1,062, depending on the seating quality.
Scalpers are trying to get as much as $500 for a ticket, but considering the ticket sales even at a discount, it may be a risky wager to find someone desperate enough who is unaware of how cheap the tickets are going for.
I mean, should anyone be surprised at this point?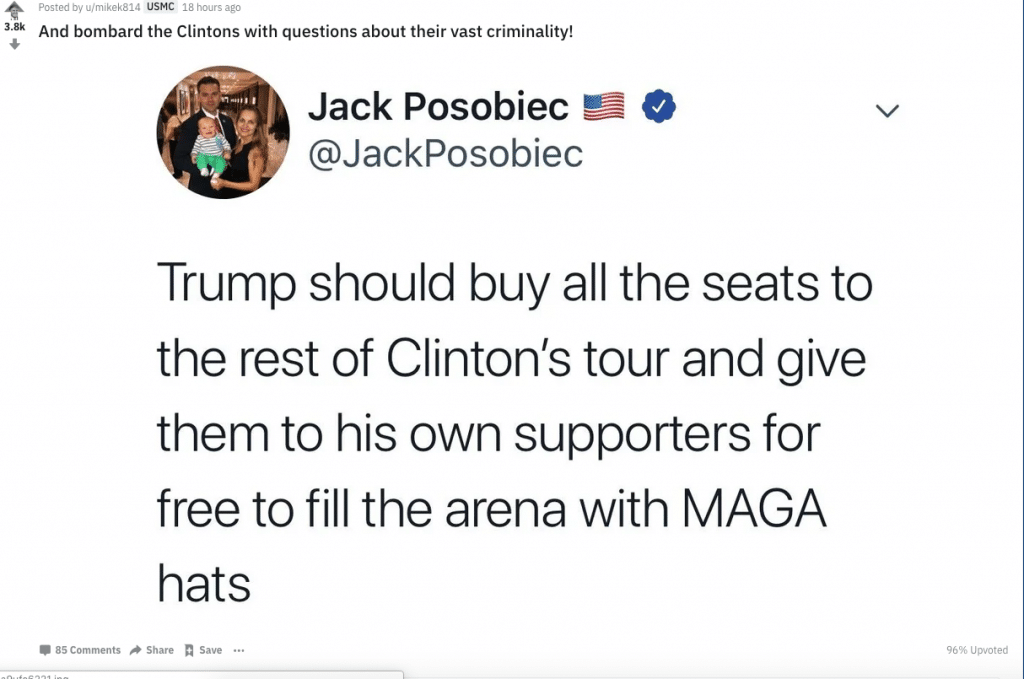 The Clintons are so arrogant, they really thought Americans would shell out big cash to see them. Why? What were these events supposed to be about?
Did they think Americans wanted to come to a theater and listen to the Clintons complain about America?
These events weren't in support of an election. They weren't offering advice or entertainment. It was simply a ruse for the Clintons to rake in more cash.
But nobody is buying it … literally.
Pretty sad when you think about it: recently, Donald Trump packed in stadiums; people lined up for days across the country, just to see him.
The Clinton's can't even GIVE tickets away.
Source: Breitbart