Cher Demands Women 'Take Control' Of Men's Bodies – In The Sickest Way Imaginable
Wow… she really IS nuts!
It seems Hollywood elites have gone completely off the deep end.
It's one thing to be liberal – Hollywood has been liberal for decades – but it's quite another to be champions of dysfunction and hate.
And out-of-touch wackjobs like Cher are leading the charge.
Cher has come absolutely unglued in recent weeks, throwing up all-caps Tweets that are just … outrageously insane.
Her latest is so nuts it's actually frightening:
Get ready, because this takes man-hating sexism to a whole new level.
Via Breitbart:
"Left-wing pop icon Cher suggested in a recent social media post that women create laws over men's bodies…

…like banning the use of Viagra and giving the death penalty for those men who use massage parlors."
REPUBLICANS BELIEVE THEY'VE GOT GOD GIVEN RIGHT 2 DICTATE WHAT WE DO WITH OUR BODIES.WOMEN MUST MAKE LAWS 2 CONTROL MENS BODIES. NO VIAGRA,ROGAIN, TESTOSTERONE‼️ALL MEN MUST BE CIRCUMCISED,& SHOW PAPERS OR PENIS 2 PROVE IT.MASSAGE PARLORS PUNISHABLE BY☠️.MEN MUST TAKE THE💊

— Cher (@cher) March 9, 2019
Wow.
This sounds like some sort of parallel universe where women keep men as pets, complete with leashes and cages.
The terrifying part? Cher is so crazy, she might actually approve of that.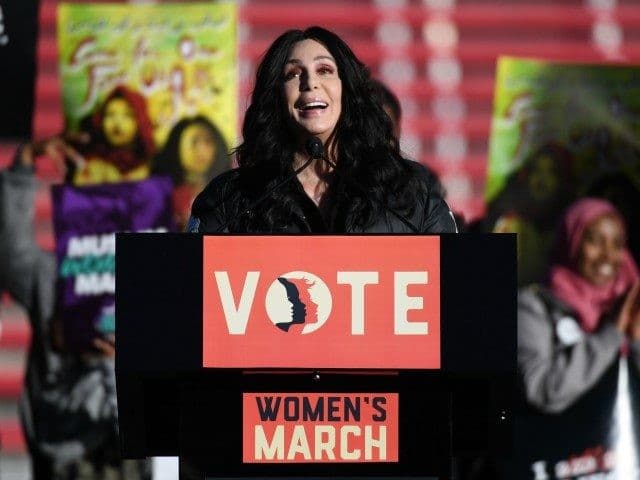 Clearly, some celebrities have come so unhinged that they've flat-out lost their minds.
One almost hopes Cher is just on a cocktail of major drugs, because that would better explain this blatantly sexist lunacy.
Remember, earlier this month, Cher flipped out on President Trump, too:
WHY IS trump"ALWAYS"
PR MAN 4 VILLAINS⁉️WHY DOES HE❤️,KOWTOW,💋ASSES OF DICTATORS,CHILD
MOLESTERS,MURDERS,WIFE BEATERS,ANTISEMITES,WHITE SUPREMACISTS,HATER OF ANY SKIN NOT LILY WHITE.WHY⁉️HES🤢WITH ENVY.HE WANTS 2 BE A 👑,BUT HOW CAN HE CARE"NOTHING"FOR OTTO
WARMBIER😔🇺🇸

— Cher (@cher) March 1, 2019
"WHY IS trump 'ALWAYS' PR MAN 4 VILLAINS!?

WHY DOES HE, KOWTOW, [Kiss] ASSES OF DICTATORS,CHILD MOLESTERS, MURDERS, WIFE BEATERS, ANTISEMITES, WHITE SUPREMACISTS, HATER OF ANY SKIN NOT LILY WHITE."
I mean, none of that even makes an ounce of sense.
It's as if clueless celebs have swallowed the liberal narrative hook, line, and sinker, and then warped it into something even MORE extreme and perverse.
Let's just hope that few people take these adolescent rants seriously.
After all, NOBODY in their right mind can say things like this, so let's just take solace in the fact that Cher is likely certifiable.
SHARE if you think Americans should start boycotting the insane, hateful trash in Hollywood!
Source: Breitbart