After Cher Shocks Sanctuary Cities, Trump Drops 5 Words He NEVER Thought He'd Say
This might be the surprise of the YEAR!
President Donald Trump and Cher are like oil and water.
These two just don't go together. They don't agree on anything.
The highly liberal entertainer has frequently attacked the President in recent years, over a variety of issues ranging from healthcare to immigration.
So, if you're Trump, you always expect to see some nasty message from Cher on Twitter.
…but last week, the impossible happened.
Cher actually said something the President could agree with. And I'm betting nobody was more surprised than Donald!
See, it all happened after Trump threatened to ship our massive influx of illegal immigrants to sanctuary cities.
Many Democrats like Cory Booker hypocritically flipped out, saying it would be "dangerous" (after years of screaming that illegals AREN'T dangerous).
But Cher took another path … she put American citizens first:
"I Understand Helping struggling Immigrants, but MY CITY (Los Angeles) ISNT TAKING CARE OF ITS OWN.

WHAT ABOUT THE 50,000+Citizens WHO LIVE ON THE STREETS. PPL WHO LIVE BELOW POVERTY LINE,& HUNGRY?

If My State Can't Take Care of Its Own(Many Are VETS)How Can it Take Care Of More."
WOW. Who saw that coming?
Not Trump, that's for sure. He was so stunned, he could only respond on Twitter with 5 words he probably NEVER thought he'd say: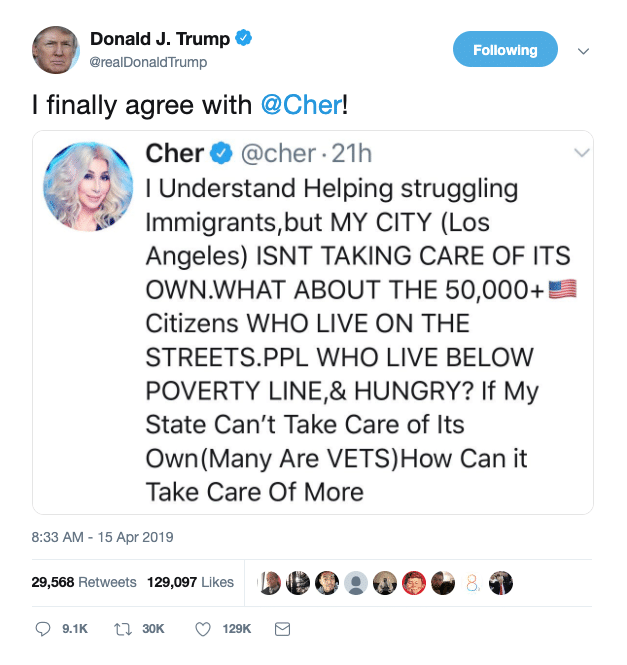 "I finally agree with Cher!"
And amazingly, so does most of America.
Most citizens want stability and safety; they want their leader to be thinking of them, and protecting them at all costs.
Immigrants – especially illegal immigrants – are WAY down the priority totem pole.
And of course, Trump understands this. It's just shocking to see Cher figuring it out, too!
Well, she lives in a sanctuary city and it's obviously so bad that she can't ignore the issues any longer.
Trump, on the other hand, coyly suggested that he's managed to "weaponize" Twitter:
My twitter has become so powerful that I can actually make my enemies tell the truth.

— Donald J. Trump (@realDonaldTrump) October 17, 2012
Okay, that's pretty funny.
But who knows? Maybe he really IS having a significant impact on people … even ultra-liberals like Cher!
Either way, though, remember this moment, because Trump agreeing with one of Hollywood's most notorious leftists may never happen again.
SHARE to spread this surprise! NOBODY will expect it!
Source: Breitbart