Former NFL Cheerleader Viciously Harassed For Her Christian Beliefs—Now She's Battling Back
Christians in America have been facing unprecedented levels of persecution in recent years.
Just this month, an extremely condescending New Yorker article was published wherein the author lambasts Chick-Fil-A for its "creepy infiltration" of New York City, stating that the company's mission to "glorify God" doesn't mesh with Manhattan's liberal secular community.
Not to mention the Christian bakers, photographers, and florists that have been sued by members of this liberal secular community.
In all of these instances, the message is clear: Christians are to be mocked, hated, and rejected if the leftist vision of society is to be achieved.
But Christ warned his followers that they would be hated for believing in him.
"If the world hates you, ye know that it hated me before it hated you. If ye were of the world, the world would love his own: but because ye are not of the world, but I have chosen you out of the world, therefore the world hateth you." John: 15-19
One woman learned this firsthand while simply trying to do her job, but after receiving abusive treatment has decided to fight for her religious freedom.
From IJR:
"A former cheerleader for the Miami Dolphins has filed a legal complaint, claiming she was discriminated against by both the NFL and her team for her Christian faith and commitment to virginity until marriage.
Kristan Ann Ware, who cheered for Miami for three years, filed the complaint with the Florida Commission on Human Relations earlier this month, NBC News reported."
Ware went on the Today show to further discuss her lawsuit with Megyn Kelly, and it was an eye-opening interview.
Ware stated that her commitment to Christianity first got brought up when her fellow cheerleaders were discussing their sex lives, including the songs they liked to listen to in the bedroom, and they encouraged Ware to share hers.
Ware told Kelly that she could have lied or not said anything at all, but instead she chose to share with her team that she was waiting for marriage to have sex.
From that moment on, she claims she faced a torrent of both verbal and physical abuse from cheerleading director Dorie Grogan, who inexplicably told her that her virginity was "something dirty" and physically shook her during a practice for a runway show.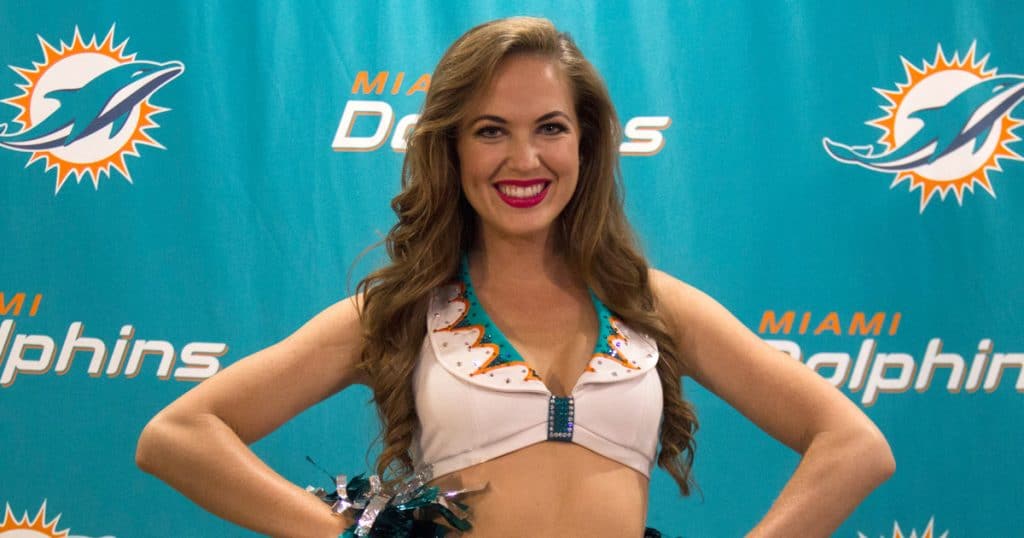 Ware felt compelled to quit but decided that what happened to her wasn't right. Her lawyer Sara Blackwell agrees, claiming that there's a double standard when it comes to football players and cheerleaders.
"This is about gender discrimination and religious discrimination in the NFL. The football players are allowed to profess their faith on social media and in the middle of the football field.
We have a picture of the Dolphins…on the 50 yard line, kneeling and praying, and it's praised. They don't get hostile treatment."
Yes, that's the real question here:
Athletes glorify God every day, often saying so right into the camera. Why exactly shouldn't a cheerleader be allowed to do exactly the same thing?
Source: IJR