After California Blows Off Trump – President Drops Billion-Dollar Anvil
California thought they could waste your taxpayer dollars – the President is making them pay!
Democrat-run California is running their state into the ground.
What's worse? They're using YOUR tax dollars to do it. For years, liberal lawmakers have spent tax dollars on projects that will never get done.
Now Gov. Newsom is killing a huge project–but refuses to give back the money he's wasted.
President Trump doesn't like that one bit. And he's making CA pay.
From Breitbart:
The Trump administration announced Tuesday that it was canceling a federal grant to California worth nearly $1 billion after Gov. Gavin Newsom announced the cancelation of the state's high-speed rail project last week…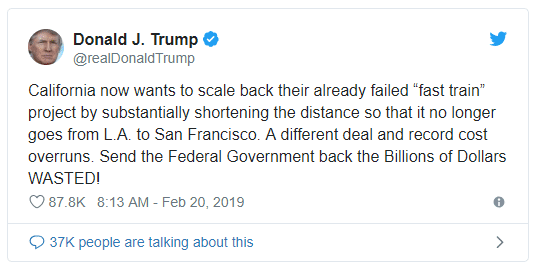 California now wants to scale back their already failed "fast train" project by substantially shortening the distance so that it no longer goes from L.A. to San Francisco. A different deal and record cost overruns. Send the Federal Government back the Billions of Dollars WASTED!
SHARE to thank President Trump for hitting California hard!
Gavin must be dreaming if he thinks he can end the high-speed rail without giving back the money.
Imagine a private business taking billions from investors, cancel the project, and keep the money! There would be more than a few lawsuits and investigations over that kind of fraud.
Gov. Newsom refuses to hand over money his state extorted from the federal government and did nothing with.
President Trump has every right to demand that $3.5 billion back. If Newsom keeps playing games, why wouldn't Trump cancel this $1 billion grant?
California Democrats think they can play fast and loose with the nation's money. They never think about the consequences–or how their terrible policies hurt regular Americans.
And they will never learn until someone like President Trump reprimands him like the children they are.
SHARE to thank President Trump for hitting California hard!
Source: Breitbart