After Beto Tells Trump To Stay Home – Donald Trounces Him With "Phony" Hammer
Beto never saw Trump coming – you don't boss 'The Donald' around!
Since when can Beto O'Rourke order the President of the United States around?
Oh, that's right—never.
But the man who just won't go away after losing his own political race in Texas still thinks elevant.
Worse yet, he thinks Donald Trump is actually responsible for what happened in El Paso, saying POTUS had "given people permission" to do what they did..
Then on Monday, he basically ordered the President not to come to El Paso to visit and comfort the victims.
Trump's response? Vintage Donald. This is perfect!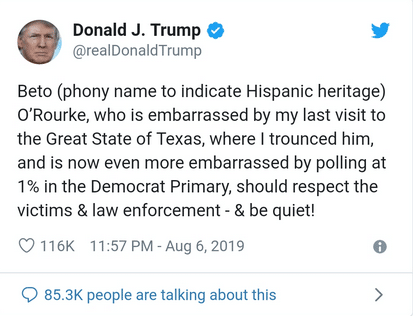 "Beto (phony name to indicate Hispanic heritage) O'Rourke, who is embarrassed by my last visit to the Great State of Texas, where I trounced him, and is now even more embarrassed by polling at 1% in the Democratic Primary, should respect the victims & law enforcement & be quiet!"
Ouch!
Trump's is not only going to El Paso – he humiliated Beto thoroughly while blowing him off.
Donald really ripped Beto a new one. Beto is barely registering in the polls these days in any polls, down at 1% in some of them.
And why's he polling so low?
Personally, I think he's a ccharlatan, someone who has no clue how to lead, and someone deluded enough to try and order the most powerful man in the world around.
Is Trump dividing the country? Or guys like Beto?
We'll let you decide.
SHARE if you love Trump's reply to the "phony" Beto!
Source: Breitbart