AOC Accuses Republicans Of Major Conspiracy – Then Fact-Checkers SHATTER It
She's not just wrong… she's EVEREST-level wrong.
Everybody's least favorite court jester, Alexandria Ocasio-Cortez, is at again.
New Yorkers will regret electing this amateur to public office … if they aren't regretting it already.
She constantly proves she has no understanding of our laws, economy, or history.
Worse yet, she acts like an insulting child in front of CEOs and even her own party members.
And the result? All this has led to tanking approval ratings for the "golden girl" of the Democratic party.
And now, she's making wild claims that Republicans manipulated the Constitution!
But, yet again, the facts aren't on her side (from Breitbart):
"Rep. Alexandria Ocasio-Cortez (D-NY) is spreading the conspiracy theory that Republicans amended the Constitution to stop President Franklin Delano Roosevelt from being re-elected."
AOC is claiming Republicans amended the Constitution to stop FDR from being re-elected.
…wait, what?
Well, fact-checkers were quick to put her to shame:
First, she's confusing the Roosevelt era and the Lyndon era. She doesn't even know simple history, apparently.
Second, she's claiming Democrat super majorities made Civil Rights possible. And that's way wrong.
According to AOC, Congress amended the Constitution to prevent FDR from being re-elected:

"They had to amend the Constitution of the United States to make sure Roosevelt dd not get reelected."

(Reminder, FDR died in office in 1945; the 22nd Amendment came in 1947) pic.twitter.com/DImHj0caVy

— Tom Elliott (@tomselliott) March 31, 2019
Third, she's wrong about Republicans being able to amend the Constitution!
A Constitutional amendment can only be ratified after TWO-THIRDS of Congress vote, yes; then it needs to be approved by a whopping THREE-QUARTERS of the states.
So tell us, AOC, how Republicans were able to pull that off, without support from most of the country…?
Oh, and let's not forget this little truth nugget:
FDR was re-elected three times; he served for four terms and died in office. Nobody stopped him from getting re-elected … except for the Grim Reaper.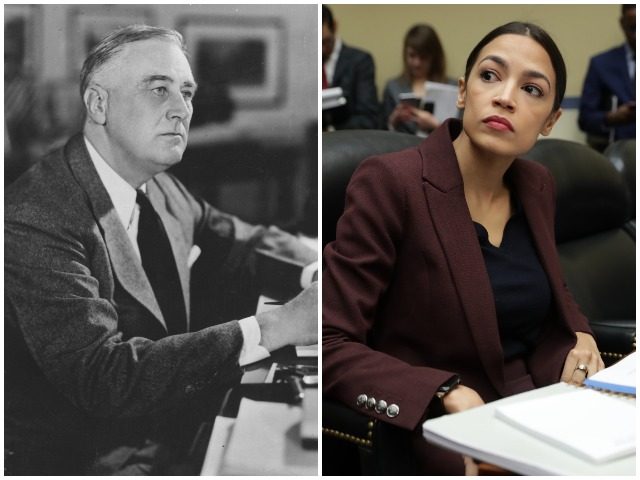 Term limits were set after Roosevelt died. The 22nd Amendment set a president's time in office to two terms, and that was five years after FDR was gone.
And it was passed by two-thirds of Congress and three-fourths of the states, which means both Democrats and Republicans supported the measure!
So, what will AOC get wrong next? How much siller can she possibly look?
Honestly, it's like one never-ending comedy show!
SHARE to let everyone know just how CLUELESS AOC really is!
Source: Breitbart