After Alexandria Demands to Ban ICE, She Drops An Even More Insane Border Bombshell
The American way of life hangs in the balance…
Alexandria Ocasio-Cortez is the gift that keeps on giving.
To Republicans, that is.
This crazy, inexperienced, poor excuse for a politician torched her reputation when she unveiled her unrealistic and downright scary "Green New Deal."
The proposal was so bad, in fact, that top Democrats refused to even touch it.
But now, she's doubling down on her bad ideas, and this includes completely defunding ICE and opening our borders to hundreds of millions of illegals.
Yes, seriously.
From Breitbart:
"All Latinos have a race-based right to migrate to the United States, Democratic Rep. Alexandria Ocasio-Cortez said Thursday…

"It is a right. We are standing on native land, and Latino people are descendants of native people.

We cannot be told and criminalized simply for our identity or our status."
This would result in countless Latinos migrating to the U.S. without having to become a citizen.
And this comes after AOC said she wouldn't give "one dollar" to ICE, the only group right now that's actually protecting American citizens.
Clearly, Ocasio-Cortez continues to pander to the Latino minority, in the desperate hope they'll keep electing her.
Who cares about white Americans, African Americans, or anyone else? Right, Cortez?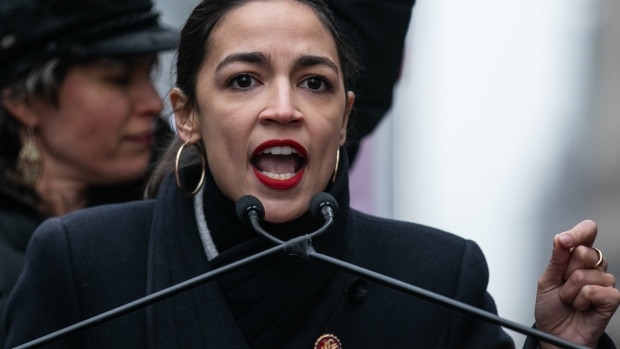 This woman is becoming a laughing stock. She has no idea what she's doing; she has no experience or understanding of how to govern, and even Democrats are embarrassed.
Yet the liberal media wants you to believe she is the future of the United States…
If she's the future, we all need to be very, very frightened, because America would be in ruin if she gained power.
We need to make sure AOC's days in Washington are numbered, and vote her out at the earliest possible opportunity!
Source: Breitbart