After America Announces Obama Verdict – Trump Drops His Presidential Gavel
Patriots know what really happened – and Donald wants justice.
With the Mueller report clearing Trump's name, the media is trying to move on. But Trump isn't.
The Left accused him of treason for over two years. They said he could be a Russian operative. Turns out, it looks like it was all done through illegal spying.
But one name seems to have escaped the recent investigations:
Barack Obama.
It's obvious the media is still trying to protect their golden boy. But Americans aren't buying it.
From Rasmussen Reports:
Most voters now suspect President Obama or his top people knew that intelligence agencies were spying on the Trump campaign.
According to Rasmussen's new poll, most voters believe Obama and his people were aware that spying was going on against Trump.
In fact, only 36% percent say it's unlikely Obama didn't know the FBI was acquiring their fraudulent VISA warrants.
We know that the Russia collusion investigation was started thanks to the dossier paid for by Clinton and the FBI. James Comey used that debunked dossier to get a warrant to spy on Trump.
All of this was going on at the same time the FBI shut down an investigation into Hillary's illegal email server.
So they spared the Democrat so she could win, but it looks like they invented a crime to take down Donald Trump.
And all this was going on during Obama's time in office—and he didn't know about it?
Give me a break!
He was the President of the United States. These investigations involved people running to take his job. You mean to tell me he wasn't involved in the spying at all?
And Trump knows it too: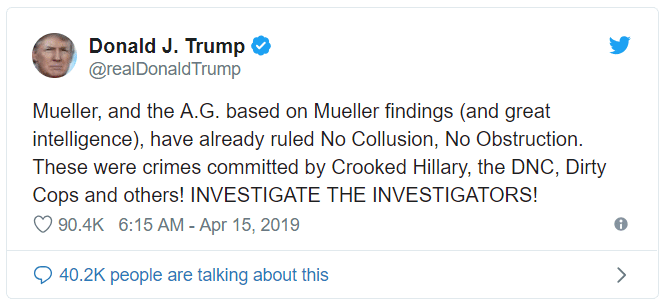 Donald may not be ready to exactly finger his predecessor yet, but he which "others" were in charge of everybody involved. And we do too.
It definitely looks like Obama had his fingers in this "insurance plan" designed to take down Trump. Some have even suggested he continued calling the shots after Trump took office. Deep state operatives were looking to Obama to ensure Trump was removed from office.
They failed. Why? Because Trump was innocent! But shouldn't they be held accountable for their crimes?
The American people think so.
SHARE if you're ready to see justice for Trump!
Source: Rasmussen Reports